Soccer's Emma Moore caps off career with standout season

Nov 30, 2016 01:10PM ● Published by Community News Service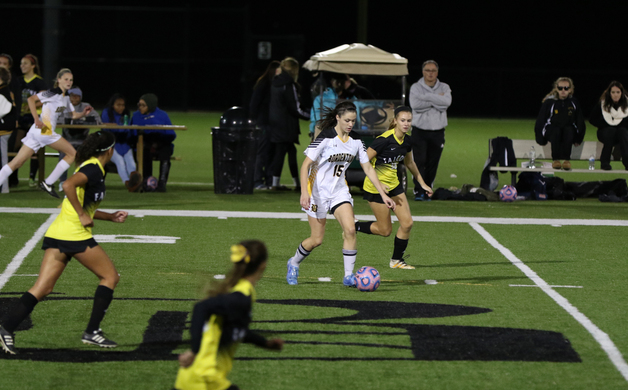 Emma Moore netted 13 goals and six assists in 19 games for the Scotties this season.
By Kevin Kunzmann

On Oct. 21, Bordentown Regional High School girls' soccer player Emma Moore scored the first and only hat trick of her career. It came in a 5-2 win against Burlington City, and it came in waves. The first goal came off a deflection from a defender, the second was on a shot from the 18 and the third was on a breakaway.

That hat trick was a succinct summation of Moore's general style of play.

Moore's varying and overwhelming attack on goal is something teammate Colleen Kotch had gotten used to—or, at least, tried to—in practice. Kotch, a junior defender, learned in practices what opponents learned in games.

"Emma's always on the end of every ball," Kotch said. "She always got a head on it, foot on it, whatever, and it would end up in the back of the net."

In what ended as a losing season for an injury-riddled Scotties' squad, the senior Moore became the focal point of the team's stat sheet and playbook. She netted 13 goals and six assists in 19 games, starring in an offense that gave her range to work in.

"She's not a true forward, she likes that soft spot between forward and midfield," head coach Dominick Castaldo said. "She's not designed by our system, it's more designed by her. It's very good to have a player like that in certain areas or the field. She's able to see things a little more differently."

Castaldo called Moore a student of the game, and Kotch echoed those thoughts.

"She's always two steps ahead of what the play actually is," Kotch said. "She knows where the next ball is going to be played—if not, where it should be played. She's always is going the right way."

All of this is surprising to hear for Moore, who admittedly doesn't watch much soccer outside of the FIFA World Cup. Instead, Moore was a student of her own self, logging mental notes of lessons and mistakes since she first started playing soccer in fifth grade.

That it took Moore until her very last season to put her dynamic play on full display is more due to injuries. She fractured a metatarsal in her left foot in seventh grade, but kept playing soccer. Though it was never fully broken, the fracture went untreated for too long, to the point where Moore was running at full speed downfield one game when a sudden pain shot up her leg. She needed to be carted off the field, resigned to admit the bruise on her foot was worse than it seemed.

She fractured it again early into high school, when a defender stepped on her foot. Between playing for Bordentown and a travel league team, Moore was putting serious strain on her injury. Kotch knew her friend had fears of it being stepped on or getting hurt by an errant step, but Moore didn't let it affect her again.

"She just wanted to be on the field," Kotch said. "It's almost like when she stepped on the field, nothing was wrong."

She recovered before her junior year, in time to make her move for varsity playing time. The team was losing over a dozen seniors, Moore said, and starting spots weren't guaranteed.

"Junior and senior year I tried to become a starter," Moore said. "I'm really proud of myself for stepping it up instead of just accepting it."

Moore wasn't elected a captain this year but had leadership opportunities pressed upon her. Injuries forced Castaldo to give young players bigger roles, and the Scotties suffered a four-game losing streak in the middle of October. With the state tournament looming, Moore put up back-to-back multi-goal games against Willingboro, then capped the week with her hat trick. She scored seven goals in what became a three-game winning streak.

Moore never saw herself as much as a motivator as she did a settler. She takes pride in her sense of humor—which Kotch said manifests in constant, good-natured teasing—and made it a personal goal to get to know her teammates better two years ago. Her advice for younger players is to do as she does: learn from it.

As to whether her own potential came out, Moore believes it did, especially in her senior season. Continuing soccer in college is among her many goals for the next year, including acing her last high school classes to avoid final exams, getting into Delaware Valley University and pursuing a pre-veterinary degree. What her future college team would receive is a player who doesn't make the same mistake, or goal, twice.

"You get used to how she plays, but sometimes you'll realize she doesn't play the exact same way every time," Kotch said. "She'll find creative ways to attack the ball and get shots. She's not selfish, but at the same time knows if she has a shot then to take it."

Castaldo didn't describe her as fast or strong, but as conscientious and respectful—in ways that carry on and off the field.

"She doesn't put herself as a focal point," Castaldo said. "She's not bigger or anything less than anyone else on the team."
Sports
,
Today
,
Schools
Dominick Castaldo
Emma Moore
Colleen Kotch
Bordentown girls' soccer