From the lab to the committee

Jan 03, 2017 07:21AM ● Published by Community News Service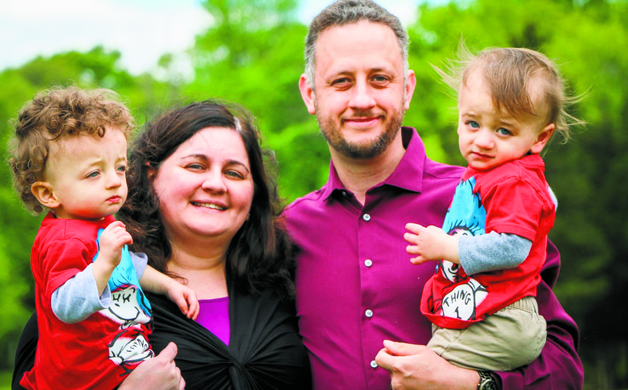 Bordentown Township committeeman Eugene Fuzy with his wife, Elizabeth, and their children Sawyer, left, and Alexander.
By Michele Alperin

Asthmatic as a child, Eugene M. Fuzy was not allowed to have pets with fur. So when he was about three, his father gave him a Colorado potato beetle, an insect a little smaller than a quarter that feeds on tomato or potato leaves. That sparked an interest in insects that followed him through childhood and eventually formed his career path.

Other than a slight detour into herpetology — the study of reptiles — in middle school, insects were always part of his life. During college, the now-entomologist's relationship with them became professional.

Now he can add elected official to his resume. Fuzy, the vice chair of the Bordentown Environmental Commission, was elected to township committee Nov. 8. It was his first time running for office.

In April 2015, Fuzy saw on a Bordentown Facebook site that the Bordentown Environmental Commission was looking for someone to join its board. He responded and at the second meeting was sworn in as vice chair, and he will continue in this position until the end of December.

The biggest issue the commission has faced during his tenure is the New Jersey Natural Gas Southern Reliability Link pipeline and the accompanying Transcontinental Gas Pipeline Company compressor station to be built. Currently, Fuzy says, they are waiting for an answer from the New Jersey Department of Environmental Protection on whether the compressor station can be built.

When asked to run for committee, Fuzy, 40, said no at first because his children were so young. But when he realized that the demands from children who were a year and a half were a lot different from those of nine-month-olds, he decided to go for it. He says he really enjoyed campaigning door to door, which gave him a chance to meet 60 percent of the town's residents, he estimates.

Canvassing gave him a sense of what issues people really care about. About the pipeline, he says that "people do care about it but feel it is is an issue that can't be won—that why they are not coming to meetings and being as vocal as they should." Another issue is radium in the water. Bordentown City is installing greensand to filter it, and the city is waiting for a water report.

But taxes were people's most serious worry. "They are concerned about why the taxes for the school are so high and would like to see the education level raised while keeping the same tax rate or lower," he says.

Fuzy is now working on finishing his thesis for a master's degree in entomology at Rutgers and hopes to graduate next fall. He is studying the effects of newer insecticides in turfgrass on organisms not targeted by the insecticide. He is looking at the amount and diversity of insects before and after spraying and at how long it takes them to recover after the spraying. To do so he uses "pitfall traps," where insects fall into 16-ounce Solo cups filled with antifreeze, which kills and preserves them.

In his free time Fuzy is also a spider expert and has shared his expertise on the History Channel. Out of six hours of filming, the producers included about 10 minutes of his commentary in an episode of "Monster Quest" that focused on a search for a four-foot spider.

In January 2009, Fuzy married his wife, Elizabeth, who is a principal for the Bancroft Neural Health Early Autism Program in Cherry Hill. They met on eHarmony, an online dating site. Elizabeth lived in an apartment in Bordentown City, so they decided to buy a house there because it worked well for their opposite-direction commutes and had a decent tax rate and schools.

After their twin sons, Sawyer and Alexander, were born six weeks early on Dec. 19, 2014, Fuzy and his wife decided he would be a stay-at-home dad, for several reasons: the price of daycare would be very high; because the twins had such low birth weights, they wanted to reduce exposure to illnesses; and because his wife earned more than he did. "I never cared about money until we had kids. I worked for fame, not fortune," he says, noting that the 22 publications where he is co-author are what constitutes "fame" for him.

Elizabeth was home for the first six months. "Neither one of us would have survived if it was just one of us," Fuzy says.

Fuzy grew up in South River. His father was a mechanical and electrical inspector for General Dynamics, working on the Seawolf submarine project when Fuzy was a child. His mother stayed home with Fuzy and his older and a younger brothers.

Starting in 1995, after Fuzy completed an associate's degree in biology at Middlesex County College, he began working at Petsmart. One day, a customer asked him if he knew anyone who wanted to do mosquito research, and Fuzy figured he himself was the obvious choice.

He also started working part-time as a field technician for Rutgers University's Headlee Research Laboratories, which focuses on mosquito control. The lab was studying the life habits of the Cattail mosquito, which has a possible role in transmission of Eastern equine encephalitis.

The Cattail's breathing mechanism at the larval stage is different than that of most mosquitos. Rather than breathing through a tube that sticks above the surface of water, the cattail inserts that tube into a plant to get oxygen. As a result, the usual efforts to control mosquitoes, by disturbing the water surface with oils, don't work with the cattail.

At Headlee, where Fuzy was a field technician from 1998 to 1999, he did field collection of mosquitoes (including overnight collections and feeding studies to find peak feeding times) and measured head capsules to determine their age. For Headlee he also managed insect colonies, ordered supplies, and acquired new species for its vivarium. He also did administrative tasks.

In October 1999 after graduating from Rutgers with a degree in biology, Fuzy was hired as senior laboratory technician by a new professor, whose research area was in turfgrass entomology.

Fuzy says that this position, which was functionally a laboratory manager, is "where I really learned management." His responsibilities included all the laboratory logistics, budget, and staffing, which included professional mentoring of his mostly graduate and college student employees. The number of employees in the lab, which he says was "probably the size of a modest dining room," ranged from up to 24 during the summer down to six in the winter.

Fuzy also did hands-on research, studying biological control of pests in cool season turfgrass. Working in open plots or greenhouse settings, he worked primary with nematodes and roundworms, which are both used to control white grubs, which can damage lawns. Nematodes live freely in the soil, where they find grubs through vibration, then penetrate through their outer layer, releasing bacteria that slowly liquefies the grub. "If you apply nematodes [to your lawn]," he says, "they will kill grubs as they appear. Insecticides you have to apply every year, and you have only a few weeks to kill them."

Fuzy also maintained colonies of nematodes, by finding grubs infected with nematode larvae, bringing them back to the lab, and culturing them. When he and his team found grubs that were bright yellow, rather than the typical red or orange, they guessed that those might be a new species, which was confirmed by experts.

He also worked from Feb. 2013 to July 2015 as senior laboratory technician in two positions within RUCDR Infinite Biologics, using automated and manual methods to extract human DNA and plasma from blood.

Fuzy's term on committee begins in January, and he says he would like to make the town website more user friendly. "Other than that," he said, "looking forward, I would like to put my intellect and reasoning into any decision we make and to learning a lot my first year so I can be more proactive in the second and third years."
Today
,
Community
Eugene Fuzy
Bordentown Township committee