'Welcome wagon' leaves legacy

Jan 03, 2017 07:25AM ● Published by Community News Service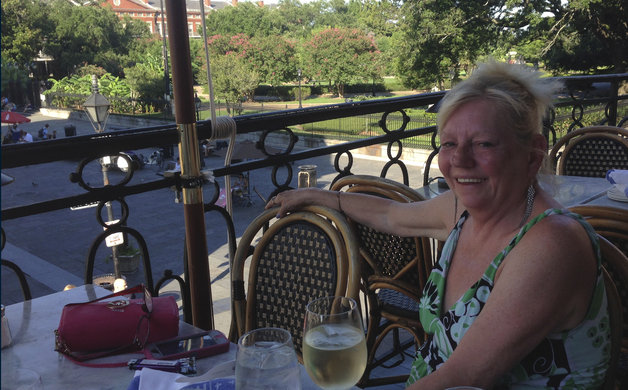 Patti DeSantis was the past president of several Bordentown organizations, an original female forklift driver at the Ocean Spray plant, Clara Barton School House caretaker, and more.
By Michele Alperin

To capture the life force that was Patti DeSantis requires not only knowing what she did for Bordentown but how she did it and how her actions affected other people.

And they affected a lot of people.

DeSantis, a lifelong Bordentown resident who grew up on Prince Street, died on Nov. 30 at the age of 66 after a battle with cancer. 

Known as "the welcome wagon of Bordentown," DeSantis always reached out to newcomers. Her friend Stephanie Corbo-Pecht recalls when she and her husband had just arrived: "Patti introduced us to everyone she knew and told us all about Bordentown and her love for Bordentown. She instilled her love of Bordentown in me, which made me love her even more."

She was the past president of the Bordentown Historical Society, the Bordentown Elks Ladies Auxiliary and the Bordentown Red Hat Society. DeSantis helped launch two of Bordentown's most popular seasonal events, the Ghost Walk and Holiday House tours, and organized the Cranberry Festival. 

She was a member of the Garden Club, the Green Team, the Iris Festival Committee, and the Hobettes, and she co-authored a book about her hometown that she loved so much. DeSantis was the Clara Barton School House caretaker, and she was even one of the original female forklift drivers at the Ocean Spray plany, where she worked for 29 years.

Daughter of the late John Patrick and Mary Henrietta Mahon, she was predeceased by daughter Penny Cheesman, sisters Mary Margaret (Minx) McDonough, Kathleen Delia Mahon Dobo, and brother John Patrick Mahon.

She is survived by husband of 36 years Michael (Mickey); her children Heather, Bruce, and Chet Cheesman and Amber DeSantis-Mollino; a sister Beth Mahon-Neylan and brother-in-law Bill and her grandchildren Magdalena (Maggie) and Michael (Max) Berton.

DeSantis believed in shopping locally. "She took care of the merchants," friend Suzanne Wheelock said. "We would go to lunch at all the restaurants downtown."

Mickey said she would always be the first one to welcome and encourage new business owners. She loved to spread the word about new merchants.

When DeSantis was sick, and her daughter, Heather Cheesman, was helping her out, the phone would ring maybe 10 times a day, with people asking, "Is this the information hotline?" She knew about everything that was going on in Bordentown.

DeSantis also loved to find beauty everywhere she looked. With Wheelock, she started the garden club. "Mom would buy all the geraniums from the local church fundraiser and then put them in town," Cheesman, the former Bordentown City deputy mayor, says.

But her appreciation for beauty was also apparent in special touches, like the corsage she gave to Corbo-Pecht when she was first installed as an officer in the Ladies Auxiliary of the Elks (DeSantis herself served a term as president). Or like the set of napkin rings she boxed up for Corbo-Pecht as a reminder of a "regular dinner," an enjoyable barbecue, their families had together. "Everything that went on in DeSantis's life was a special event, and she wanted it to be remembered," Corbo-Pecht says.

DeSantis also loved history, especially Bordentown history. She was a past president of the Bordentown Historical Society, and she helped get a big grant to restore the 1740 Bordentown City Friends Meetinghouse where the society is located. She was also involved in the society's Peach Social and chaired its popular annual Holiday House Tour.

Eventually DeSantis took charge of the Clara Barton Schoolhouse right across the street from her house. Corbo-Pecht says DeSantis gave most of the tours with schoolchildren and private groups and made sure the schoolhouse was being taken care of properly. She put up holiday decorations, mowed the lawn and planted flowers.

Wheelock adds, "If Patti saw somebody across the street, she would holler out, "Would you like a tour?"

DeSantis was also the co-creator of the Ghost Walk tours that stop in front of homes and tell tales of hauntings on the day of the Halloween parade. She was a member of the Green Team and part of the Bordentown City Environmental Commission, whose volunteers educate residents and businesses about the benefits of sustainability. DeSantis jumped on board to help with the Cranberry Festival when its organizer, Jackie Reed, was having trouble with some angry vendors. "She promised Jackie, 'I will be there for you,' and helped her for the next 20 years," Cheesman says.

DeSantis also helped with the Elks Women's Auxiliary craft fair, and although she was not able to help run it this year, Cheesman says, "She made sure she got there, and she moseyed around on her walker to check things out."

When DeSantis and Mickey moved into town, she bought a cheap pickup truck and would drive around and pick up free stuff from the curb that she would paint and stick in their yard. "Our yard in the beginning was shabby chic; whatever junk she picked up, she would turn it into love and put it in the backyard," Mickey said.

DeSantis and Mickey's house, and how they came to own it, reveals more about deSantis—in particular, that she was someone who knew what she wanted. In 1980 the couple had moved to Bordentown Township, where they rented a semi-detached house with three bedrooms from an aunt and uncle, figuring it was a good place to raise kids. But when the kids left for college, Mickey recalls, "Out of the blue she said, 'I really want to move back into the city.'"

Mickey was not so excited about moving, having just finished remodeling their township home, adding a new state-of-the-art kitchen and floors. So he set three requirements for a potential house in the city, figuring they would be impossible to meet: it had to have off-street parking, a big backyard, and the house could not be attached to another one.

When Mickey returned from taking his daughter back to college, DeSantis asked him to have a look at a house in town that she said needed "powder and puff"—but Mickey thought, "needs more like dynamite." What he saw, just on the outside, was wooden clapboard falling off, gutters and soffits in need of repair, a front porch literally falling down, a backyard totally overgrown with vines and a one-lane driveway with broken concrete.

After calling a real estate agent, they also saw the inside, which Mickey says "was just as dated and terrible." The living room, for example, he described as a dungeon, "so dark you needed a flashlight."

But it was perfect for DeSantis.

Mickey, who would be renovating the house himself and saw how much work it would be, thought DeSantis was kidding, but for her the house was great: a big home with four bedrooms in the middle of town on East Burlington Street. So they bought it for $93,000 in 1997 and moved in not long after.

During the construction process, which stretched over 10 years and required gutting six of the nine-and-a-half rooms, Mickey worked for AT&T until late afternoon, then worked at home until 9 or 10 every night. DeSantis went on with her many volunteer activities, helping out in the house if Mickey needed her. But, not surprising given her love of beauty, her main role was taking care of the aesthetics. "As I'm doing a room, she is visualizing how she is going to finish it: colors, fabric, flooring; when we got to that point, it was her turn," Mickey said.

She chose different colors, sometimes idiosyncratic, for each room; for example, the laundry room and half-bath are a high-gloss green enamel, and the wallpaper in one room resembles the red and white plaid tablecloths that Italian restaurants used to have.

It was in the dining room that DeSantis started to hang the Bordentown memorabilia she collected from different auctions and Shoppe 202, an antique store in Bordentown. "Not only would she find it; if it was a scrap of paper, she would have it matted and framed," Mickey says.

One item in their dining room is a flag from the 1957 commemoration of the 275th anniversary of Bordentown. Different historical pieces decorate the rest of the house, including a clawfoot bathtub that DeSantis wanted in the master bathroom along with a standup shower. They bought the bathtub through eBay, and Mickey drove to Baltimore to get it for her. Wheelock adds that DeSantis put in a chandelier over that tub.

Mickey was particularly impressed that DeSantis was willing to live in the house while he worked on it. "She put up with all that; it wasn't, 'We should just hire someone and get this thing over with,'" he says.

In 1985, when their youngest daughter, Amber, was starting kindergarten, DeSantis announced that she wanted to go back to work. Even though Mickey assured her they were doing fine financially and she didn't need to, she started at Ocean Spray cleaning bathrooms for $7 an hour along with her sister Kathleen. The next year, the plant had an opening and she went full time, working on the bottling assembly line. After working different positions on the bottling side, she moved to the shipping side. DeSantis worked at Ocean Spray for 29 years.

Mickey recalls that one day she came home and told him she was going to train as a forklift driver. Mickey's initial response to her was, "I worry about you driving a car—how are you going to drive a forklift?" But she was determined.

"You don't tell Patti she can't do something or is not capable," he said. She started driving a forklift about the same time as her friend Donna Cramer. The two were among the original female forklift drivers at the plant.

"It was a shock to the world; she was going in and out of tractor trailers with a full load, and with stacks that look 40 foot high," he says. Perhaps it was more of a shock that she wore pink work boots.

Cheesman recalls that her mother was full of energy and never stopped. "I just remember even as a kid we were always doing something," she says. When DeSantis was working full time at Ocean Spray, with a schedule of 12-hour shifts, three days one week and four days the next, she still fit in everything she thought was important. "Whenever she had down time, she was with her grandkids, running an event for the city, or helping someone out," Cheesman says.

DeSantis's caring reached beyond her own family. Cheesman recalls one family that her mom made sure had supplies for holidays, including a tree on Christmas. When a friend told DeSantis she liked the turkey decoration on her door, DeSantis went out and bought her an identical one. And DeSantis once stopped everything to sit down with a young man who needed help on a Bordentown history project he was doing. He came to her viewing to tell her family how grateful he was.

"Showing up for events, being there for people, knowing when it is a hard time, encouraging people to do things, always an ear to talk to—anyone could stop on by her house," Cheesman said.

DeSantis also loved hanging out with her friends. Corbo-Pecht recalls a special trip that Patti and seven other Bordentown women, ranging from about 35 to 80 years old, took to Savannah, Georgia. The inspiration came from one of DeSantis's favorite books, "Midnight in the Garden of Good and Evil," about the Savannah murder of a male hustler Danny Hansford by an internationally known antiques dealer Jim Williams in May 1981. While there, the eight women, who called themselves "the crazy eight," went to a performance by one of the book's incidental characters, drag queen Lady Chablis.

DeSantis's energy also manifested itself in her collections—pottery, crystal, and Bordentown history. Some of the Bordentown postcards she collected made their way into the 2014 book "Bordentown," which she coauthored with her friend Arlene Bice.

DeSantis's love of beauty also found expression in fashion. "My mom was cooler than me; she was ahead of the newest trends that were coming out," Cheesman says. This included once dying her hair purple and loving bling, anything shiny and sparkly. Although Cheesman herself is a pants and T-shirt person, she adds, "Luckily for my mom, my daughter came more in line with fashion." And, according to Wheelock, DeSantis also owned probably 60 pairs of flip flops (another collection), which resided on shelves that Mickey built on one side of her closet.

"She was just bubbly and happy, 'blessed be' everywhere," Wheelock says. "She just had this come on and join me type of personality, and everybody did."
Today
,
Community
Patti DeSantis