Pet pantry helping to feed furry friends

Jan 03, 2017 07:29AM, Published by Community News Service, Categories: Today, Community, News
---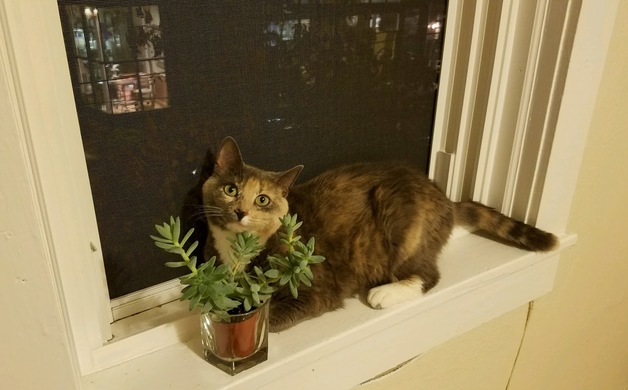 ---
By Lisa Zola-DeLibero

Pets often mean the world to their owners, but when times are tough, some pet owners find it a struggle to have enough money to buy pet food.

Enter Bordentown City pet food pantry, launched at the end of September by Bordentown City Cats in conjunction with St. Mary's Church and Bordentown Dog Lovers.

Bordentown City Cats, an all-volunteer organization dedicated to rescuing and caring for the stray and feral cat population, has done whatever they can to help cats and humans live together harmoniously for the last 14 years. When Mak Kieffer, one of the organization's founding members, saw the need for assistance that many pet owners have in feeding their cats and dogs, she reached out to St. Mary's, asking if they could be the official site of the Bordentown-area pet food pantry. They agreed.

"St. Mary's has been providing a vital lifeline to area families," Kieffer said. "We approached them about working together (and with Bordentown Dog Lovers) with the goal of helping to keep families united with their pets while they weather tough times. "

The donations are taken to the church from one of four drop-off spots: Little Friends pet Grooming, 137 Farnsworth Ave.; Christ Episcopal Church, 130 Prince St.; Honor Yoga, 3224 Route 206; and the front porch of 11 E Church St. The dry food is double wrapped for extra protection.

"All of the donations of pet food, dry and canned, are donated by area families with huge hearts, and who understand the bond between humans and their pets," said Kieffer, a longtime Bordentown City resident. "People from all around the surrounding area are donating food, and there are a number of volunteers who spend the their time giving the food out to the families in need. The donated food may be left in a large box in front of the participating locations."

The pet pantry at St. Mary's is located alongside the long-running food pantry and is available to residents of Bordentown, Crosswicks, Chesterfield, Fieldsboro, Mansfield and Columbus. To be eligible to receive regular food and pet food, interested participants must preregister at St. Mary's Church office, 45 Crosswicks St., between 9 a.m. and 3 p.m. Monday-Friday, and present a valid ID and proof of address. According to BCC, there is a strong demand for cat food at this time. Monetary donations to support the purchase of food are also accepted.

"When we first started collecting pet food, we were so happy with how many people were donating," Kieffer said. "Then, we saw how may people came to actually get the food from the pantry. People kept coming in, and it made us so happy to know that they are now able to feed their pets, which helps to relieve an extra stress."

Organization member Jenn Sciortino feels that food pantry program will keep growing. "We have been overwhelmed with the support from the community and the goodness that people have in their hearts," said Sciortino, a Bordentown resident for the past 10 years. "We have also received lots of support from the mayor, the city clerk, and the police department. St. Mary's, as always, has been very gracious to us and the to the community."

Kieffer feels that Sciortino is one of the reasons BCC will continue to function for a long time because of how much time she dedicates to volunteering. Kieffer cited Patric Mills, who does a lot of legal work for the organization, as another standout member.

For years, Bordentown City Cats has been cutting down on the feral cat issue, with TNR (trap, neuter and return), feeding the ferals, reducing animal stress and by fostering many stray cats and litters of kittens. More fosters equals more kittens available for adoption, and the availability of food at the pantry might encourage someone who might have previously decided against adopting to do so, Kieffer said.

"Fosters like Val Licht are making a difference every day, giving kittens and cats the love and socialization that they need so that they can be adopted into loving forever home," Kieffer said. "Once the animals are adopted, their owners know now that, if hardship comes, there is food right around the corner for both human and feline."

The organization also helps with spaying and neutering of pets by working with local veterinarians who take the time to give medical treatment to animals at discounted rates, understanding that keeping ferals and pets healthy is an important to the "entire community. We want to help everyone," Kieffer said. "The pet food pantry is doing just that. Like I said the other day when asked about the pantry, 'Holy cow, it's working.'"
---
---
Bordentown Dog Lovers St. Mary's Church
---