'We have a problem here'

Jan 03, 2017 07:39AM ● Published by Community News Service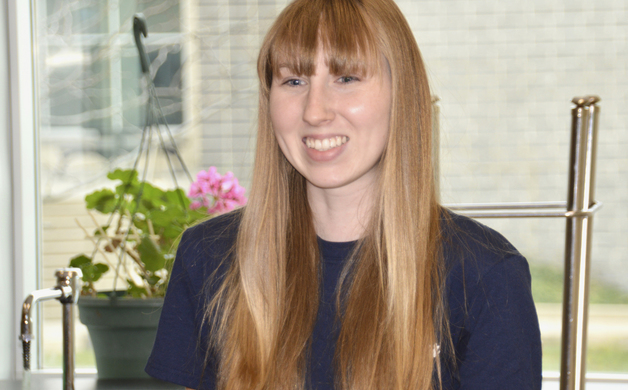 Jaime Reiser and her epidemiology class held a presentation about heroin to the Board of Education on Dec. 7, 2016.
By Frank Comstock

Heroin and opioid addiction rates and deaths from overdoses of these drugs have been headlines in media throughout New Jersey for the last several years. The website of NJTV, New Jersey's public television network, may say it best: New Jersey has a heroin overdose rate that is three times the national average. The state has had 6,000 overdose deaths since 2004, and there has been a 700 percent rise statewide in admission to drug treatment programs.

Bordentown Regional High School science teacher Rebecca Jacobsen challenged the students in her advanced epidemiology course to look behind facts like those to find ways to help their own community. She pushed them to tailor their studies to address and understand how these issues were affecting the students and families in Bordentown. The 18 juniors and seniors took that challenge to heart recently when they looked at possible new ways to address the needs of their fellow students who might be abusing drugs.

The students then went a step further to both educate the community and ask the Board of Education to tweak some of the penalties for drug use by students during a presentation on Dec. 7, 2016. Peter Heberling, Reena Zhang, Kristin Stettner, Leah Walm, Miranda Krause and Hannah Quinn presented on Disease Model of Addiction, while DaVonne Alexander, Crystal Romas, Gizem Turk and Abby Ohene Yeboah discussed Progression of an Addiction.
Kate Connelly, Debra Jones, Carly Stanford and Brooke Roberson worked on Addiction in Bordentown. Jamie Resier, Cameron Foster, Zach Telford and Danielle MacFarlane presented on Positives and Potential Improvements to the BRSD Drug Policy/Prevention Resources and Strategies.

Narrowing their research to heroin and opioids, Jacobsen's students extensively studied the issues on both the national and local stages to hone in on the extent of the problem while also addressing possible changes to BRHS policy for dealing with students who have addictions.

"I think it struck a nerve with [the board], especially when we talked about the policy and the changes we wanted to make to it because what we presented could actually help students while they are in school," Foster said.

Zhang began the public presentation by explaining that addiction is, in fact, a disease and that it needs to be addressed and recognized as a disease needing treatment. The American Society of Addiction Medicine specifically notes that "addiction is a primary, chronic disease" and those affected may pathologically pursue reward and relief by substance abuse.

As Zhang told the large crowd of community members at the presentation, opioids release extra dopamine into the body to make people feel better. The body does not naturally produce that much dopamine, so someone addicted to that feeling will take more and more drugs to get the same reaction.

Overall, Zhang emphasized the addiction as a disease theme when she noted that the larger community needed to "lessen the stigma about addiction itself. A lot of people will think it is their own fault, but they're just like you and me. We need to recognize that."

Peter Heberling addressed confusion surrounding drug abuse by saying, "The myth is that if you do drugs and get into trouble, you got what you deserve." He debunked that myth by referencing what has often been said by experts: drug addiction is a disease, and people need help. "It doesn't matter how they got there," said Heberling. "They deserve treatment."

Naloxone hydrocholoride, better known by the trade name Narcan, is usually administered as a nasal spray by trained medical personnel, as well as police officers and EMTs, and can reverse an overdose. The drug has been administered more than 18,000 times since 2014 in New Jersey.

Roberson reported that Narcan has been used 14 times since 2014 in Bordentown Township with success in all but one instance. Unfortunately, she said, there have been nine deaths from drug overdoses among BRHS alumni since 2010.

Sergeant Matt Crowell, School Resource Officer, said at least one officer on the squad carries Narcan at all times. He has his own. Crowell points to a lower rate of drug use in Bordentown versus other towns in New Jersey.

"We are fortunate and it is not very often that I have to intervene in a suspected drug or alcohol abuse incident," he said. "We do have our incidents with drugs or alcohol. However, it is not on a consistent basis in the school."

Reiser concluded the presentation to the school board by talking about suggested improvements to the school district's drug policy, as well as pointing to resources in the greater community to help individuals and families dealing with drug addiction.

"There's a lot of things in our policy we really like, such as the six counseling sessions," Reiser reported. "We love that parking privileges are revoked because it makes it a safer environment for our students who could potentially be harmed if someone was driving under the influence of drugs."

Looking toward some possible policy revisions which would have to be approved by the school board, Reiser noted that students who worked on this project would like to see changes to out of school suspension days and loss of extra-curricular activities. "We would like out of school suspension days to be added to in school suspension days," she noted because having all the suspension in school allows for additional monitoring of the affected student.

The current policy also requires offending students to drop any extracurricular activities. Reiser would like to see that discontinued.

"Extracurricular activities are a really good positive in student life and it could be a very positive outlet for someone," she said.

Reiser also noted the group's hope to see two improvements to the discipline program: the addition of a community service component and a peer mentoring program, so an affected student could meet with someone near their own age and situation—someone who may have gone through the same thing.

"It can happen to anyone and you just need to be aware, Connelly said. "Just because you don't think someone has a problem, they might. There's a misconception that our town doesn't have a problem when we do, so don't overlook anything."

Reiser reinforced those comments.

"We have a problem here," she said. "You wouldn't think it, but just because it doesn't look like it doesn't mean it isn't real. We wanted to educate the people about what is going on and get some changes we could do immediately to impact our school."

Some community resources, such as Bordentown Residents Against Drugs, the City of Angels program, the no-questions-asked medicine drop box at the Bordentown Police Department, and the Student Assistance Counselor at the high school are positives, the student said.
BRAD provides funding for guest speakers, workshops and peer-to-peer programs. Cindy Gola, a secretary at BRHS and BRAD member, spoke in favor of the group.

"The group is part of a statewide program of municipal alliances that are aimed at the prevention of alcohol and drug abuse," she said. "We do this by supporting activities and programs in Bordentown City and Bordentown Township geared towards keeping our youth healthy and safe."

Gola said that the group is partnering with municipal governments, police, business and community leaders, clergy, school administration, parents and students. The Bordentown middle and high schools share their student assistance counselor, Nell Geiger, who noted that students of any age can share problems that are creating barriers in their lives.

Geiger has a responsibility to meet with and counsel any student who had a positive drug screen in part to determine frequency of drug use and to assess further treatment needs and options. "The creation of the SAC position in many school districts throughout New Jersey has been the most effective strategy to identify, address and monitor individual students as well as coordinate and oversee district prevention and intervention efforts," she said.

Edward Forsthoffer, superintendent of the Bordentown Regional School District, stressed his appreciation of the students in Jacobsen's class.

"I am certain that everyone benefited from this presentation," he said. "Many people, myself included, personally know people who have battled addiction, and it is still a difficult topic to fully understand. This presentation not only illustrated how addiction can occur, but it also showed how prevalent it is in society."

Education is a key strategy for trying to prevent addiction. Demystifying addictive drugs and explaining how they can negatively affect a person will hopefully decrease experimentation. We are also fortunate to have a SAC on staff. [Geiger] is able to offer counseling sessions to students who are thinking about drugs, experimenting, or already addicted. Our hope is to get the young person early and offer the education, counseling, and direction to prevent a full-out addiction."

Jacobsen's students echoed their superintendent's thoughts when they expressed their goal to educate the community, demystify the perceptions about drug abusers, and positively impact school district policies to help their fellow students. Some people in the community don't accept or recognize the drug problems, Jacobsen said. She expressed pleasure that her students could "impress upon them that it is a public health issue and it should be treated like one."
Today
,
Community
,
Schools
Epidemiology
Heroin
Opiod addiction