Dynamic duo leads Scotties

Jan 03, 2017 07:45AM ● Published by Community News Service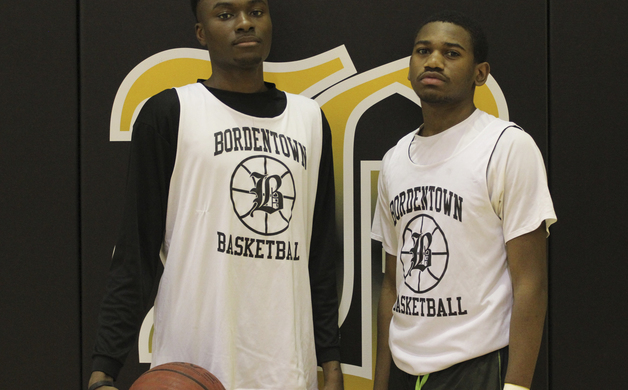 Bordentown basketball players Manny Ansong and Darnill Brown head into their senior seasons with a 51-11 career record. (Staff photo by Samantha Sciarrotta.)
By Rich Fisher

Darnill Brown is a great basketball player on his own, as is Manny Ansong. Combine them on the same floor, however, and they become even more dynamic.

Both feed off each other in positive ways and, fortunately for the Bordentown High boys' basketball team, there is no better place they would rather be on the court than together.

"They are joined at the hip for better or for worse and I think it's a cool thing," Bordentown head coach John Myers said. "When people come to recruit them I make the guy talk to both of them. Not because they have to play together in college, but they just really are a unique thing. I can't think of anybody I've seen the last four years that has had that kind of complementary talent. I'm banging my head thinking about it—who has a big man who's dynamic with a guard who can shoot the pill?"

The 6-foot Brown is the guard, and has averaged 11 points in 68 career games. He is coming off a junior season in which he averaged 13.4 to go with 59 steals and 59 assists. The 6-foot-3 Ansong is the big man who has averaged 9 points in 60 career games, after averaging 11.5 points and 5.9 rebounds as a junior.

"Darnill is a quick, and he's a stat box filler," Myers said. "Manny is just as dynamic as they come in South Jersey."

The two have been on varsity since their freshmen seasons, and have been solid contributors the last two years when the Scotties went a combined 51-11. Bordentown is coming off a 26-5 campaign in which it won the Central Jersey Group II title before falling to Camden in the state semifinals.

Gone from that team are standouts Myron Gordon and Dante Gipson, who averaged 35.5 points between them. Which means that Brown and Ansong —returning starters along with Jacquey Mendez—will have their chance to step into the spotlight.

"Myron Gordon is as good a basketball player as I ever coached and he was like a son to me, but we don't win the way we won over the last two years if these two kids aren't on our team," Myers said. "Manny has such a dynamic ability about him, how many guys do you see like him in our area? Then you have Darnill, who's so even keeled. They have very complementary styles. Darnill has his thing and Manny has his. I think when it's all said and done, if they can put it together, and the team can put together a nice little season this year, they can be all-time winningest players in Bordentown history."

Their demeanor on the court is also complementary. Brown is the more outgoing of the two.
"Manny's a quiet guy, he doesn't really talk," Brown said. "On the court he's like that too, he doesn't say much. But his game does his talking for him. He's an energetic player."

Brown, on the other hand, has embraced a vocal leadership role.

"I've been waiting for this since my freshman year," he said. "I'm more of a talker."
Ansong concurred with that, but knows he must still lead by his own example.

"I don't really talk much," he said. "But I like (being a leader) because it's a change. It's me getting young people better."

The tandem has been part of 61 victories since their freshman seasons, when both played sparingly. But their friendship goes well beyond that. The two met each other in sixth grade, playing middle school and AAU ball.

Ansong knew it would be a strong relationship the first time they met.

"I knew he was someone who would push me to be better at basketball," he said. "So right from the get go, I knew he would be a good friend of mine."

This year Brown will be part of Myers' point guard trio that will also include Mendez and Amani Morales. Brown played some point during last year's state tournament run whenever Gordon got in foul trouble, and feels that should aid his development this season.

"Those were good teams we were playing, so it really helped going against them," Brown said. "I knew I was going to have the ball in my hands a lot this year since Myron's gone. I have to work on my handle. I have to work on decision making and I have to make open shots."

Myers said he put Brown at point guard during the summer as a way to work on control and court vision. Meanwhile, Ansong will be on the rim while still providing his usual inside presence to give the Scotties a nice balance.

"I rely on my jump shot, he gets to the rim a little bit," Brown said. "We're basically opposite, so we're good for each other. I need him and he needs me."

And Myers needs them both.

"They're great kids and they've been such a great influence on this program," the fourth-year coach said. "Someone said to me the other day 'You've had such a great run since you've been here.' I said 'I've got talent.' These kids are talented.'"

Ansong and Brown are the nucleus of what should be another strong Scotties team. Bordentown won its first three scrimmages by an average of 34 points, and has beefed up its schedule against the likes of Washington Township, Cherokee, Paul VI and Bishop Eustace.

"If I didn't have the talent, I wouldn't push the schedule," Myers said. "But I have some talent, and you always want to test your team. This group, unlike last year, is not an emotionally high or low group, which I think will benefit us."

The Scotties' goals this year are to win their Christmas tournament, the Burlington County Liberty Division and CJ 2 titles, while also getting into the state championship game.

"We look young, but I think we have more talent than we had last year and I think we play better defensively," Ansong said. "Overall we look really good, but it's too early to tell how we're going to be. I'd say we've got a good team and we'll see how it goes. We play hard and play to the last minute."

"It's unfinished business," Brown added. "We're trying to do what we did last year and also make it to the finals."

The two of them will be doing it together, which is the way it has always been.
Sports
,
Today
,
Schools
Manny Ansong