Back at the helm

Feb 01, 2017 07:05AM ● Published by Samantha Sciarrotta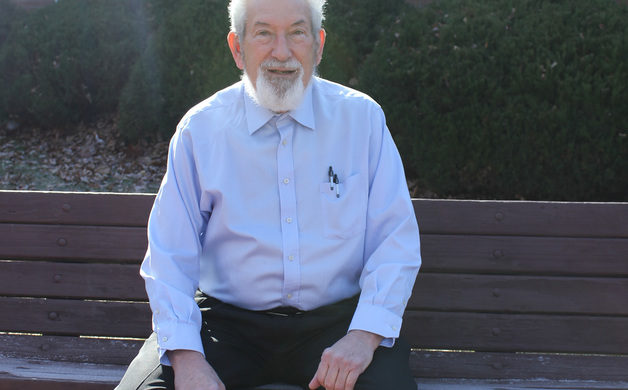 Steve Benowitz was named Bordentown Township Mayor at the township's reorganization meeting Jan. 7, 2017. (Staff photo by Samantha Sciarrotta.)
By Samantha Sciarrotta

Bordentown has changed in the 38 years since Steve Benowitz was first elected to the township committee, but his goals as an elected official are the same as they were in 1979.

Benowitz, 71, was named Bordentown Township Mayor at the Jan. 7 reorganization meeting, replacing Jill Popko. He previously served as mayor in 2014 and served two terms on committee from 1979 to 1981. He was the township's deputy mayor in 1980. 

At the January meeting, first-year committeeman Eugene Fuzy was  named deputy mayor, and Popko, Jim Cann and Eric Holliday remain on the committee.

When Benowitz first ran for committee in 1978, his reasoning was simple.

"I just wanted to give back to my community and do the right thing," he said. "I had no vested interests whatsoever. I know people have a bad image of politicians. I can look people in the eyes and say, 'I've never taken a dime in my life.' It's the same thing today."

He decided to run again in 2012. He attended every committee meeting that year and noticed that commercial business was rarely discussed. That, he said, was one of his biggest incentives to make another run.

Benowitz was elected again in 2012 and immediately set out to market the township as an attractive development spot, hoping that more commercial business would help flatten out taxes. The Grainger warehouse on Hedding Road opened last year, and Benowitz says the township has plans to add six new warehouses within the next couple of years, including one built by Exeter on Bordentown-Hedding Road that is scheduled to open this year. The ideal location, he added, is near the spot where Rising Sun Road, Old York Road and the turnpike meet.

"The aim is to decrease the residential component of our taxes and increase the commercial business component," he said. "We have the most attractive location in the state."

Benowitz also discussed plans for an Arby's at the Petro Travel Center and a new tire sales and truck maintenance garage at Love's Travel Stop Site. Construction has started on the new Dollar General Store and Pep Boys on Route 130 North, and the 101-room Holiday Inn Express nearby is nearing completion, though Benowitz could not provide an exact opening time frame.

The Wawa on Route 206 South will also be renovated. Construction on the proposed Wawa at the old Saturn dealership site has halted.

"When they came in at that time, the marketing was a convenience store," Benowitz said of the Wawa. "Now, any type of convenience store that goes on a highway between Maine and Florida, they want a gas station."

New tenants will move in to the Acme Shopping Center on Dunns Mill Road. Benowitz did not offer any specifics on the possible redevelopment of the Shop Rite Center on Route 206 South. The new Public Works building is set to open this year, and Benowitz called the possibility of a new municipal building a "necessity." It was last remodeled in the '80s, and Benowitz suspects renovations may be more expensive than just starting over.

Benowitz has lived in Bordentown for 48 years. He grew up in Roosevelt, a small town near Hightstown that was originally called Jersey Homesteads. His father, Bernard, was as a salesman and his mother, Frances, worked at Bamberger's in the Princeton Shopping Center where McCaffrey's is now. Benowitz himself worked part time in the menswear department.
Roosevelt's population when he was a kid, he said, was around 750 people. Benowitz remembers seeing Eleanor Roosevelt speak when she attended a school dedication to Franklin Delano Roosevelt, and he said the town was a haven for artists like Ben Shahn, who had a studio with a frog pond where Benowitz and his friends would play in grade school.

Benowitz attended Hightstown High School and went on the get an associate's degree in liberal arts from Trenton Junior College, now Mercer County Community College. He earned a bachelor's degree in history at Rider University and a master's in special education from Trenton State College. Benowitz began his career teaching at the Yardville Youth Reception and Correction Center and then moved on to Rahway State Prison, but he wanted to get back into public education, and he ended up working as the director of special education at Burlington County Vo Tech for 30 years.

Though Bordentown is much larger than Roosevelt, Benowitz said he sees some similarities between the two communities.

"That experience really transferred to Bordentown," he said. "It's a closely-connected town. The communication is there. You have different things here because you have neighborhoods that are separated by highways, but there's a closeness. A number of people either grew up here or moved back, or they had relative here. We want to perpetuate that."

Benowitz first moved to the township in 1969 when he was 24 years old with his wife, Ellen. They have lived on Van Drive since 1975. The couple have been married for 49 years and have two children—Jill and Frank—and three grandchildren—Rebecca, Francine and Maddie.

His grandchildren and their generation are the ones on his mind when he thinks about the legacy he wants to leave in Bordentown. He says the township will continue to fight the Elcon facility, New Jersey Natural Gas Southern Reliability Link pipeline and the Transcontinental Gas Pipeline Company compressor station. The township hired two special attorneys—one for Elcon and another for the compressor station—and he has already reached out to administrations in neighboring towns, hoping to work together.

"We're trying to protect our residents from something that does not benefit us in any way and that will cause environmental issues for future generations that I don't want to see and I don't want to leave for my grandchildren," he said. "I have a granddaughter who's thinking about moving to Bordentown. How am I going to tell her to move to Bordentown when we're going to have a pipeline and compressor? It's not in Bordentown (the proposed compressor station would be built just over the border in Chesterfield), but look at the damage it's going to do."

Though he said Bordentown is a "different world" from when he first served on the committee, the people in town are not much different. The biggest change he has seen is one that is common across the country—it is more difficult for young people to start their lives and get their feet off the ground, he said. He and his wife and countless couples like them married young and settled down with a home, children and steady incomes early, something he feels is nearly impossible for his grandchildren's generation to do now. He hopes to help change that in Bordentown and beyond.

"You don't have the same philosophy," he said. "You don't have the same hopes. The younger generation can't have it because of whatever socioeconomic factors there are. I stay awake at night thinking about that. That's the biggest concern I have. That's my legacy. I want to see people have the same chance I had. There's sort of a hopelessness, and I get it. That's the biggest difference between then and now, and I'm trying to do whatever I can in my small little way to change that direction."
Today
,
Community