Stomping through the ska scene

Feb 01, 2017 07:14AM ● Published by Community News Service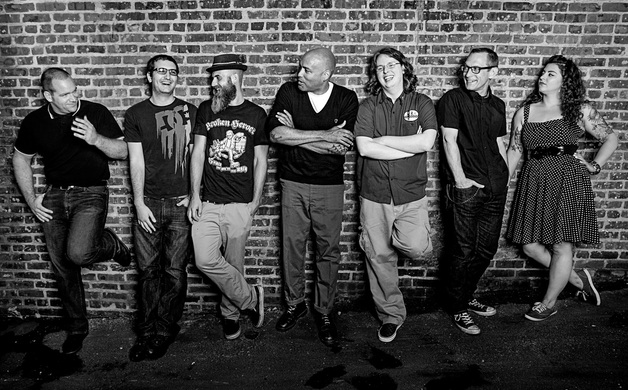 The Hub City Stompers are a ska band that tours throughout the country, but some of its members call Bordentown home. Left to right: Bob Voorhees, Greg Behan, Joe Piperato, Travis Nelson, James Kelly, Rob George and Jennifer DeSantis. Nelson, George and DeSantis all live in Bordentown. (Photo by Mike McLaughlin.)
By Giuliana Grossi

Travis "Rev Sinister" Nelson, Jennifer "Jenny Whiskey" DeSantis and Rob "Rod Gorgeous" George have toured across the country and throughout Europe as members of New Jersey ska band the Hub City Stompers, but it's Bordentown they call home.

The band—also including "Reggae" Bob Voorhees from Hoboken, Joe "Pip" Piperato from Bethlehem, Pennsylvania, "G&T" James Kelly from Westfield and Greg "Pukey B" Behan from Fort Lee—plays about 50 shows per year. They usually do one big 10-day tour each year in addition to traveling for other one-off gigs and practicing once a week. DeSantis, originally from Spotswood, and George, who grew up in Hamilton, are New Jersey natives. Nelson, the vocalist and frontman of the band, moved to New Jersey in 1977 with his family from Pittsburgh, Pennsylvania. Each of the band's members have played with various bands throughout their lifetimes. When Inspecter 7, a band Nelson played in throughout the 90s, began to slow down, he started the Hub City Stompers in 2002.

Inspecter 7 was still playing music until 2014, but stopped touring in 2001. Wanting to keep the musical momentum going, Nelson started Hub City Stompers with a similar catalogue and a few of his previous band mates, along with some other musicians from the Jersey music scene.

Nelson, a mail services supervisor at Rutgers University, is well-versed in the New Jersey/New York underground music scene. Since he's moved to New Jersey, Nelson has lived in Trenton, Hopewell, New Brunswick and, since 2004, Bordentown. "I've always appreciated underground music," he said. "The idea of ever being in a band, to me, was a joke, really." Because he was always into hardcore music, Nelson never thought about joining a band, let alone a ska band.

Regardless of his early thoughts, Nelson joined Inspecter 7 in 1994 "on a fluke," he said. "I was their friend and their drunken fan who would dance at shows," he said, "and I guess they noted my presence on the dance floor." He continued with a laugh, "I think they wanted me as a hype man, like the Flavor Flav of ska or something."

Although he didn't like the idea at first, Nelson attended a few of their practices and realized that being co-frontman and songwriter for Inspecter 7 might be something he'd enjoy after all. He's been in a band ever since. In 1997, he formed another band on the side called Steel Toe Solutions, a hardcore punk band.

Since 1997, Nelson says he's been in multiple bands at once. "Ever since joining Inspecter 7 in 1994, I took to it, and loved writing music, performing music, seeing different scenes around the country and world," he said. "It just became a more positive part of my life, it kept me away from all kinds of nonsense. Joke's on me."

DeSantis, who plays the tenor saxophone in the band, joined around 2004. She who works in workers compensation at Cigna Health and Dental Insurance in Piscataway and has been playing in bands since she was 13 years old. She started playing the saxophone when she was nine. "I couldn't imagine not playing in a band,"she said. "Even before that I was always, like, the ham of the family, the performer, I would have done anything to be in front of people since I was a kid."

DeSantis was into punk music when it made a comeback in the '90s. She recalls listing "sax" on her AOL profile in middle school and, as a result, she was invited to join a band. "I was like, 'What?! I can play cool music because I play sax?'" she said. "I was into punk and I had no idea there was room for me. I was lucky to find that so early." Nelson pointed out that ska and punk music have been linked since the '70s.

Nelson's and DeSantis's paths crossed various times while Nelson was playing with Inspecter 7. DeSantis and her band at the time, Professor Plum, sometimes performed as an opening act for Inspecter 7 shows. Nelson approached DeSantis about playing saxophone for Hub City Stompers and was coincidentally invited to play for another band called Bomb Town the same night. While she accepted Bomb Town's offer at the time, she eventually found her way to Hub City Stompers in 2004.

Like DeSantis, George was introduced to Hub City Stompers through the band he was playing with at the time—Bigger Thomas, a New Jersey-based ska band that started in the late '80s-early '90s. George joined them in the mid-90s.

In 2010, George filled in for DeSantis on saxophone for a few shows with the band. According to Nelson, it was around the same time that they found out their guitarist, Matty Glock, was moving to California. One night after a show at The Record Collector, George and the band were getting drinks at Jester's when Nelson asked George if he knew anyone who played guitar. "Yeah, me," George responded.

Nelson was skeptical. "He laughed at me," George said. "But I was like, 'No, no, you want me in the band. Trust me, I'm going be in the band."

George, an IT director at Checkpoint in South Jersey, has also been playing saxophone since he was seven years old. "I was brought up in a house with music and singing, so I was a vocalist at first," he said. "I played sax for all those years but [while] Jenny figured out that you could actually have sax in a band, I didn't have a clue that I could have sax in a band in 1984."

George was part of the marching band at Steinert High School growing up. His family was into jazz and motown, and that influenced the music he played, but as music he listens to, he runs the full gamut, except for country. He also knows the words to "every new wave song ever written," according to DeSantis. George couldn't argue. "I grew up in the '80s so, I mean, I know all that stuff from Depeche Mode, Howard Jones and Oingo Boingo."

For the band's more traditional ska songs, George also accompanies DeSantis on saxophone. The two band mates have grown close since 2010 and just got engaged at the turn of 2017. DeSantis became a Bordentown resident when she moved in with George last year.

According to both George and DeSantis, it was clear that they had a lot in common and first became close friends practicing and traveling with the band. "We'd be driving and we'd just talk the whole time," George said. "I wouldn't even turn on the radio. We had a six hour trip going down to North Carolina and we just talked for six hours." When they moved in together in 2015 after dating for three years, it felt like home, George said.

George's son Kurt is 14 years old and a freshman at Bordentown Regional High School. He comes to the band's all-ages shows and dances,and helps with the gear. Kurt's started to really get into ska music, George shared.

Nelson's sons have also been at a few all-ages shows. Milo is 11 years old and in 5th grade at MacFarland, and Liam, 9, is a 3rd grader at Clara Barton. 

When the gang isn't going by Rev Sinister, Jenny Whiskey and Rod Gorgeous, they go to work, spend time with family and friends, and hang out at The Hob or at Randy Now's Man Cave. The bandmates spend a lot of time together outside of practice and Hub City Stomper shows, usually at George and DiSantis' house.
The band has shows coming up on Feb. 19 at 1984 in Wilmington, Delaware, Feb. 25 at the Brighton Bar in Long Branch and March 24 at the Knitting Factory in Brooklyn, New York. For more information about the band, visit 
facebook.com/hubcitystompers
.
Today
,
Community
,
Arts+Entertainment
Hub City Stompers
Travis Nelson
Rev Sinister
Jenny Whiskey
Jennifer DeSantis
Rob George
Rod Gorgeous