Mercantini tapped as school board prez

Feb 01, 2017 07:19AM ● Published by Community News Service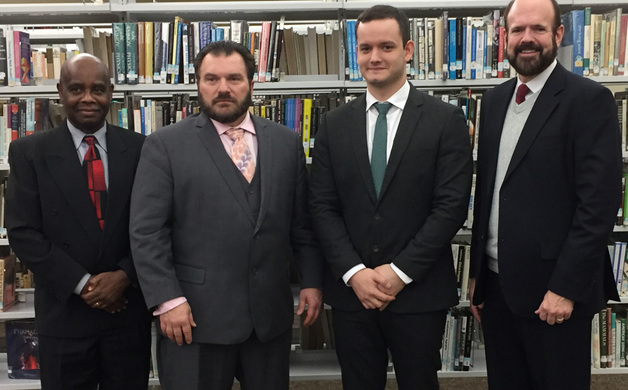 Bill Mercantini, second from left, was named school board president at the Jan. 4, 2017 Board of Education meeting. Left to right: business administrator Eloi Richardson, Mercantini, board vice president Joshua Fausti and superintendent Edward Forsthoffer III.
By Jacquelyn Pillsbury

A second-generation Bordentowner, William J. Mercantini was looking for a way to give back to his community. Running for the school board in 2014, he thought, was a good step.

Mercantini won his first election and has been serving on the board since 2015, and, last month, he became the Bordentown Regional School District's newest school board president. Upon Mark Drew's failed reelection bid, Mercantini moved from vice president on the school board to the presidency.

Mercantini is a member of Bordentown Regional High School's class of 1979, and a 1975 graduate of St. Mary School. As he puts it, "I didn't move to far from the nest."

Serving on the school board is part of Mercantini's goal to become involved with local politics. "I thought the best way was to get involved from the ground up," he said. "I went to council meetings. I started with the school board. I waited. I always felt I didn't want any distractions when I started my political career."

By "distractions," he meant his two sons, James and Nick. He wanted to make sure they were on their own two feet before he focused on running for elected office. James (William J. Mercantini, Jr.) is a chief petty officer with the United States Navy, and a 2004 graduate of Bordentown Regional High School. Nick is a 2007 graduate who lives in Bordentown and works in Cranbury. Mercantini's wife, Carol, is a food services manager at the Clara Barton School.

"I appreciate parents who want to be involved, but I waited until my children were older so I could concentrate on current issues," he said. "I'm in my 50s. I didn't want any preexisting opinions. I waited until the time was right and there was a level playing ground. I wanted to make a difference with the most bang for my buck. I wanted to make sure spending money for stellar education for the kids. I want to make sure the kids are getting everything they need to be successful, but I want that balance. I want dignity and respect for the elderly tax payer living on a fixed income. I have to be in there in order to make changes."

Mercantini, 56, takes pride in being a good listener. "There is a reason God gave us two ears," he said. "You have to listen to what people are saying. The more you listen, listen, and keep listening you'll get to where you want to be. It gives you a lot of respect and the better you can achieve your goals."

The biggest surprise in his first two years on the board was suddenly finding himself on the committee to negotiate the teachers' contract. In order to serve on that committee, members must be free from conflicts of interest. Mercantini was moved to the committee because other members had conflicts with their jobs, or with family members. Drew, board member Stephen Heberling, and board lawyer Cameron Morgan were valuable resources, Mercantini said.

"We looked for that compromise so you could get to where you need to be," he said. "I think in the end we got pretty much what we wanted and it was fair. It was an eye opening learning experience for me. An excellent experience builder."

Mercantini is a fiscal supervisor with the state of New Jersey in the Juvenile Justice Commission. He earned his bachelor's degree in business and accounting from Rider University and his master's in management and leadership from Thomas Edison State College. He has worked for the state for 18 years and has no desire to retire. On the side, he likes to grow vegetables in the Bordentown Community Garden.

He has local political aspirations beyond the school board, but no desire to relocate to Washington. His heart lies in Bordentown. "There are a few young guys I have been talking to—they are smarter than I was at their age," he said. "Josh Fausti, the vice president of the school board, is 22. He is a sharp young man. I look forward to a bright future for him. There are guys who can go to Washington one day. I like it here. Bordentown is special to me. It was special to my parents. The Mercantini name is Bordentown."

His grandparents both settled in Bordentown after moving here from Italy. "I was lucky," he said. "I grew up with older parents, which gave me my opinions of things. Me and my sons have argued over politics. You couldn't argue with my father [Leo]. My father was born in 1922. My father didn't have a childhood. His parents didn't speak English."

His father grew up speaking Italian at home and English in town and at school. "You are seven, eight years old and there is the Depression," Mercantini said. "Then, you have to go to war. When did you get to be a kid? Then he had two girls [Mercantini's older sisters]. I learned a lot from him. He was a simple guy. You go to work, save your money, and you'll be fine."

Mercantini's cousins used to operate Mercantini Chevrolet. His maternal grandfather died in his 40s in 1928 when Mary, Mercantini's mother, was about eight years old. She was one of six children growing up in Raritan. His parents met at the General Motors plant, and Leo wore his uniform when they got married. The couple was together for nearly 65 years before Mary passed away at 88. "They had a good life," Mercantini said.

As Mercantini talks to people in town they always say nice things about his parents, especially his mother. "I've never heard anyone talk bad about my mom," he said. "She'd walk through the school yard with a bag of donuts from the local bakery." He fondly remembers coming home with friends after a night of drinking and "at 3 a.m. she would make macaroni dinner for everyone. She was a piece of work," he said.
Today
,
Community
,
News
,
Schools
William Mercantini
Bordentown Board of Education