Take a book, leave a book at Simons' Little Free Library

Feb 01, 2017 07:35AM ● Published by Community News Service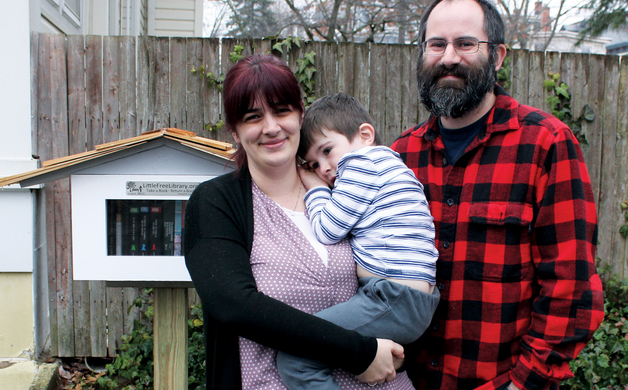 Jennifer and Ralph Simon stand with their son, Tommy, next to the Little Free Library outside of their home on Oliver Street in Bordentown City. (Staff photo by Samantha Sciarrotta.)
By Giuliana Grossi

All Jennifer Simon wanted for Christmas from her husband and son was a Little Free Library.
A Little Free Library is a small structure—usually outside of a home, school or business—filled with books. People passing by can take a book, leave a book or permanently donate one.

Simon had seen one online a couple of years ago and tried to get one posted an registered at John Witherspoon Middle School where she teaches a multi-age special education program for kids with language disabilities. When it didn't work out at school, she asked Ralph, her husband, and Tommy, their son, to build one for Christmas outside of their Bordentown City home.

Ralph works in East Windsor as a project geologist at Woodard and Curran, an engineering, science and operations company. In addition to being a scientist, he's very crafty and decided he'd build the library outside of their home at 337 Oliver St. himself. The library officially opened for business on Dec. 31.

Wisconsin residents Todd Bol and Rick Brooks started the Little Free Library project in 2009. Bol started the first Little Free Library as a way to honor his mother who, like Jennifer, was a teacher who loved to read. Readers come to the "libraries" to pick up and even leave or donate books of their own, giving others a variety of books to choose from.

Bol built a small model of a one-room schoolhouse and put it on a post in front of his house. After crafting a few more for others, he teamed up with Brooks, who was a youth and community development educator, and now Little Free Libraries have popped up all over the country.

The white painted library sits on a post in front of the Simons' home with a wood paneled roof and a clear hinged door that allows passers by to view the books inside. "I wanted it to look similar to the house," Ralph said. "That was the only real governing idea behind it. I tried to eyeball the pitch of the roof of the porch and the dimensions and approximately how tall and how wide to make something that would look like it matched our house." He started working on it in November in his garage, but when the paint started to freeze due to dropping temperatures, he moved the project into the basement.

Tommy, who turned 4 on Jan. 6, helped his dad dig the hole for the library's post until his kid-sized shovel couldn't reach any further. He also did his best to help his dad put the library together. However, he wasn't the best secret-keeper this Christmas season. "He really enjoyed telling me they were building me a surprise but he couldn't tell me what it was," Jennifer said with a laugh, "and then he would whisper it to me."

It wasn't a surprise to Jennifer that Ralph and Tommy were working on it for her. She was, however, surprised that it was finished by Christmas. Ralph was surprised too—"It was close," he said.

As a book lover and a mother of a growing boy, Jennifer often finds herself with a surplus of books that she's already read or that Tommy's outgrown. "I'd rather have people reading them than just having them sit on a shelf someplace," she said. That helped their catalog get started.

Tommy is the house librarian. He checks the books every time they leave the house and every time they come home, and he loves to stamp any new books that are added to the collection. Ralph has assumed the role of the library's "superintendent" (or the janitor, if you ask Tommy), as he's going to be in charge of the upkeep and any repairs it might need.

Jennifer, though, is the reader. "When I was a kid I always had books, and most of them were library books," she said. "When I was in middle school, I didn't have a lot of friends, I just read all the time. I read a book every summer, and I was so proud of that. "

Jennifer's favorite book "forever and ever" is The Little Prince, but she and Tommy also love Strictly No Elephants. Tommy doesn't play favorites—"All of them," he said. "I pick all."

As a teacher, Jennifer found that a common theme in workshops was that many kids go home and don't have any books to call their own. Then, she and Carolyn Bailey, John Witherspoon's media specialist, applied for a grant from the Princeton Education fund.

The grant went toward a biography project for Jennifer's students which was based on the book The 14th Goldfish, a fictional story about a middle schooler who reverses the aging process. Thanks to the grant, all of the students were able to take home their own copy of the book. "It was such a little thing, and some of them were so excited because it was the first book that they had ever owned, and they're like 13 and 14 years old," Jennifer said.

The Simons enjoy getting ice cream and taking their dog Agatha for walks around town, but they are self-proclaimed homebodies and feel that the library might connect them more closely with the community. "We're hoping more people will learn about it and come by," Jennifer said.

Ralph has served on the city's environmental commission for about a year and enjoys brewing his own pale ales. Jennifer is an advocacy volunteer with the RESOLVE National Infertility Association, and she leads a support group in Princeton. Tommy attends the primary classroom at the Montessori school in Hamilton, and he shares his mother's love for reading.

Both Ralph and Jennifer are originally from upstate New York—Jennifer is from Watertown, which is close to the Canadian border, and Ralph is a Binghamton native. The Simons lived in Plainsboro and Hamilton before they found their home in Bordentown City in 2011. When they came across the house online, they had never been to the city before. "It was affordable, and the downtown area is adorable," Jennifer said.

The Simons' Little Free Library offers an assortment of books for all age groups. Readers are welcome to take one and bring it back, swap or donate with one they have. They are also welcome to keep a book if they fall in love with it.
Since it's been open for about a month, there are more books than when the Simons started. "I hope that people use [the library], and the teacher in me hopes that kids who don't have books are getting books," Jennifer said, "but I also hope that when it's nicer out and we're outside in the yard, it helps us get to know more of our neighbors."
Find the Bordentown Little Free Library on 
Facebook.
Today
,
Community
Little Free Library
Jennifer Simon
Ralph Simon