Carthan gets his hoops career back on track

Feb 01, 2017 07:41AM ● Published by Community News Service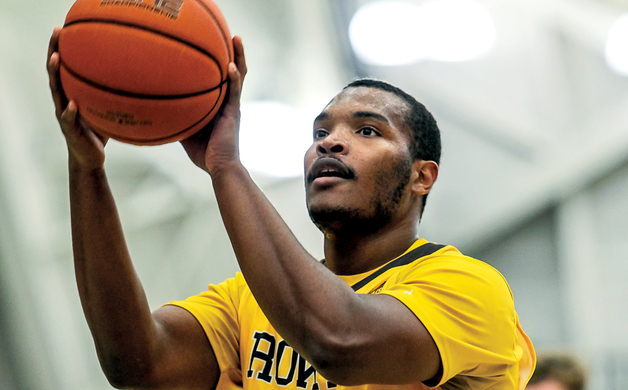 Gary Carthan lines up a shot for the Rowan University men's basketball team. (Photo courtesy of Rowan University.)
By Rich Fisher

Careers are often decided by counselors, advisors or life coaches who make six-figure salaries to guide their clients into the future. Then there is Gary Carthan, who is where he is today thanks to some sound advice from some little kids on the playground.

At age 25, Carthan is the starting forward-center on Rowan University's basketball team. As of mid-January, the senior was averaging 7.8 points and 4.2 rebounds while leading the New Jersey Athletic Conference with 24 blocked shots (1.4 per game).

The reason for the 2009 Bordentown High graduate's "advanced" years is that after using his two seasons of basketball eligibility at Mercer County Community College, he decided that a college degree wasn't for him.

"I actually started failing classes and I didn't want to be in school anymore," Carthan said. "After basketball, I was like, 'What else is there to do?'"

He decided to go part-time just to improve his grades, but after a while still felt like quitting altogether. He was just five courses shy of an associate's degree, so one of his advisers talked him into sticking with it, and he got his associates degree in 2015.

Carthan wanted to go no further. "I wasn't even thinking about going to university," he said.
Looking back now, he says, "That guy was not me. I was always a happy person, and I just wasn't happy. Basketball was over and my grades were falling."

While muddling his way through those final years at MCCC, a woman who provided Carthan an internship working with kids during his senior year at BRHS got him a part-time job. He began working in aftercare with elementary school students in the Bordentown community, and basketball became a frequent activity there. There would be games of knockout and five-on-five, with Carthan putting on a show.

"They saw how good I was in basketball," he recalled. "I told them I had two years (eligibility) left and they said 'You should go back.' One day I dunked on one of them and they were like, 'You should definitely finish basketball. You should play for the NBA. You're really good.' I finally listened them. They were pretty much the reason I decided to go back."

Fifth-graders aren't exactly the best references to put on college applications, however, so Carthan turned to John Simone, the athletic director at MCCC, and head coach Howie Levy for help. Carthan's main concern was to get a bachelor's degree, but when Levy offered to talk to then-Profs basketball coach Joe Cassidy, he was certainly interested.

"I talked to him over the summer (of 2015) when I came down (to Glassboro), and he told me there was no guarantee I'd make the team," Carthan said. "I told him I would make the team. There was no worry about that. I will make the team."

His confidence was well-founded. Carthan played substantial minutes off the bench his freshman year at MCCC, while learning the intricate "Pete Carril System" run by Levy, a former Princeton University player.

MCCC won the Region 19 tournament and went to the NJCAA National Tournament that year, but Carthan could not play due to an injury he suffered in the regional championship game.

"There were a lot of scouts there from Division I and Division II schools," he said. "It was great warming up and doing lay-ups with the team, but actually playing in the most important games of the year would have been a lot better than just going through the lay-up line."

Carthan exploded as a player during his sophomore season and drew interest from The College of New Jersey, but his GPA was below the 3.0 TCNJ required. Thus, he chipped away at getting his grades up the next few years and showed Cassidy enough to make the team once his opportunity arose.

Last season, his first at Rowan, Carthan averaged 5.8 points and 3.1 rebounds off the bench in 14 minutes per game. This year he's playing for first-year coach Joe Crispin, who was Cassidy's assistant last year. Crispin was impressed with Carthan's ability to get back into the game after sitting out for a period of years.

"It's really difficult to come back in basketball mode, but he did it last year," Crispin said. "The one thing is, he's got such a personality. He was kind of 'in' right away, just working out with the players. They took to him."

Carthan notes that Rowan's offensive system was much like Levy ran, "but a little more complex." Because he had experience with that type of concept, Gary was ahead of the game.

"He knew what he was doing when he came in, and that's important," Crispin said. "Playing with structure is one thing, but understanding a team and a role is something different, and he came in and did fantastic. All those kind of things; players think they are unseen, but coaches see them."

And what has Crispin seen?

"He's just been a pleasure to work with," said the coach, a former Pitman High and Penn State star who played in the NBA with the Lakers and Suns. "He learned a lot at Mercer. He passes the ball really well, and the most important thing about Gary is he's a team guy. He makes people around him better. He's in it for the right reasons."

Carthan stands 6-foot-3 and Crispin laughs when he says "most people would call him a center," since that's where Gary spends a lot of his time. He's a rim protector in the back line of the press and uses his strong body and athleticism to grab rebounds or at least get a hand on the ball to keep it alive.

And yet he is also a threat on the perimeter, having made 21 of 58 3-pointers (36.2 percent) last season. His outside shot has not been as accurate this year, but the coach is not complaining.

"He's having a better year this year," said Crispin, whose team was in a fight for an NJAC tournament berth with January winding down. "We've put him in a ton of situations offensively and defensively. Often we'll put him in a double-team post on the biggest guy, and we put him in a lot of ball handling situations. He's on the perimeter, playing inside, he's guarding outside and guarding down low."

The bottom line with Carthan, Crispin says, is that the numbers don't tell the whole story in terms of his contribution. "The best thing is that he brings positive energy every day," he said.

He also brings a natural target for abuse from his younger teammates, who joke about him being the "old man" on the team.

"I tell them 'Yeah, but the old man can still get it done,'" Carthan said with a laugh.

He's getting it done in the classroom as well, majoring in exercise science and health promotions with hopes of working at a community center, or becoming a gym teacher and coach. He would also entertain thoughts of playing basketball overseas.

"The biggest thing is trying to help kids out with sports," he said. "Anything that helps kids, I'll do it. Even in high school, kids kind of looked up to me."

And then there were those really smart kids, who helped Carthan map out his future.
Sports
,
Today
Gary Carthan
Rowan men's basketball
Joe Crispin
Mercer County Community College
Mercer County Community College men's basketball
Joe Cassidy
Howie Levy