Scotties' senior joins 1,000-point club

Mar 01, 2017 05:56AM ● Published by Community News Service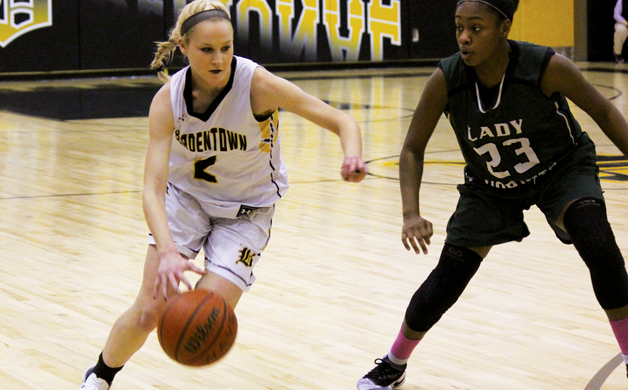 Bordentown High basketball player Morgan Papp dribbles past a Pemberton player during a 59-46 home loss Feb. 15, 2017. Papp scored her 1,000th point Feb. 11. She is also a member of the Bordentown bowling team. (Staff photo by Samantha Sciarrotta.)
By Kevin Kunzmann

Morgan Papp walked onto the Bordentown Regional High School basketball court on Friday, Feb. 10 with a lot of adrenaline. The senior Scotties point guard already had anxiety over home games. There's always too much noise and too many people watching from the stands.

Couple the attention with the 23 points that stood between Papp and a major milestone—she went into the game with 977 career points—and she was on another level. By halftime, she was exhausted. But she was also a 1,000-point scorer. Papp had posted 24 points in 16 minutes and hit her 1,000th point.

Head coach William Lloyd stood in front of his team, processing his top scorer's electric first half while trying to convince the team their 26-point lead was still not safe.

"As a coach I tried to say that an unbelievable thing just happened, but we still have 20 minutes left to play," Lloyd said.

There's a lot Papp can do with 20 minutes on a court—considering it took her a little over 60 games to score 1,000 points.

Bordentown's newest 1,000-point scorer is definitely not its most tenured. Papp has been a three-year varsity player and has virtually been a starter since her sophomore year. But she spent her freshman season on the bowling team, averaging about 180 points per game.

Papp's grandparents owned the former Papps Bowling Center, which closed after 50-plus years of business in 2014. Before she ever played recreational basketball or soccer, Papp would bowl with her grandparents. But after just one season, she missed basketball, and resolved to fight for a varsity spot.

A spot on the team came easier than thought. Lloyd recalled watching Papp run the offense at her first sophomore year practice, turning to his assistant coach and saying, "This is what we needed." By the end of pre-season scrimmages, Papp was in the starting rotation, making chemistry with teammates.

On the court, Lloyd had an average-sized point guard with length. Papp has a natural shooting touch, with good instincts off the drive and a propensity for sharing the wealth. Lloyd likens her to a "mini-coach" in games.

"She doesn't have to look over to me, she knows what to do on the floor," Lloyd said.

After her first season back, Papp focused on improving her defense and her drive off the ball. Whereas last season Papp would adjust her layups to avoid contact, she's focused on absorbing the foul and creating and-one opportunities.

A lot of her scoring now comes on transitions and turnovers, Lloyd said. Papp is the lone senior starter this season, but that hasn't changed her role as a playmaker.

"She was always a scorer, that was never a problem for her," Lloyd said. "I wanted her to play better defense and make everyone better around her. Boy, has she taken on that challenge this year."

Papp's presence on the court draws plenty of attention both offensively and defensively, and the girl who prefers quiet away games finds herself having to work under scrutiny. When pressures begin to get to Papp, she has to remind herself to reflect a good attitude for both herself and her younger teammates.

She's also become more conscious of foul trouble, having to defend against the opposing ball handler. Lloyd makes sure to remind Papp the team needs her to stay on the court, and when things get physical, the best payback is getting the win.

Wins have come more frequently through Papp's senior season. The young Scotties kicked off 4-6 before a six-game win streak brought them to 11-7 and within state tournament contention through late February. Through their surge, Papp's dominant first half against Pennsauken was a good sample of how Bordentown's succeeded, Lloyd said.

"She's had multiple games this year where she's carried us," Lloyd said. "Many of our wins have been in that realm."

Part of what may have helped Papp is that she rejoined the bowling team in her junior season. She is able to budget her basketball schedule to compete in most of the team's matches. Ironically, Papp spent her sophomore season just playing basketball, and missing bowling.

"It was super difficult, definitely, but it was nice having a car this year and getting between places pretty fast," Papp said. "I only went to bowling as much as I could."

Papp's bowling average has dropped about 20 points since her freshman season, but her accomplishments in both sports are still plenty. While gearing up for a potential state tournament run, Papp is considering her future. She hadn't reached out to many colleges about continuing to play, and wishes she looked more into Division II and III programs. She's considering attending University of Maryland or Temple University to study business, and wouldn't mind playing club sports.

When the season ends, Papp will miss just being around her team, having teammates close enough to call each other's parents, "Mom" when they came to pick up their kids. She'll miss having practices that she actually looked forward to.

Lloyd will miss the rarest player he's coached in nine years at Bordentown—a girl that could score any way possible. In fact, he considers Papp the best scorer he's ever coached. The 16 minutes it took her to reach 1,000 points solidified that.

"She was unbelievable," Lloyd said. "I'll always remember that game."
Sports
,
Today
,
Schools
Morgan Papp