Smart Remarks returns to its roots

Mar 01, 2017 06:00AM ● Published by Community News Service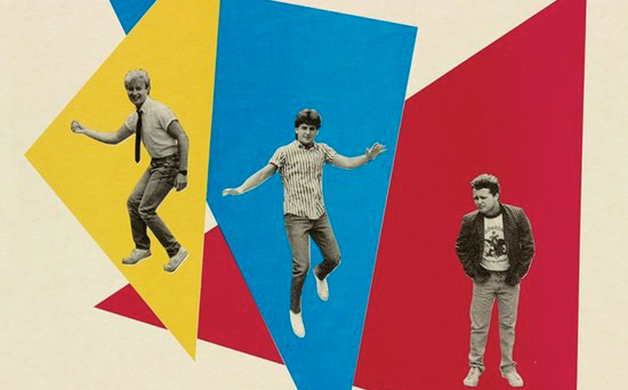 The cover of Smart Remarks' compilation album "Foreign Fields: 1982-1984," which was released last month. The band is from Bordentown.
By Jacquelyn Pillsbury

In the early '80s, three Bordentown Regional High School students took their jam sessions to the next level and started a band, Smart Remarks. Nearly 40 years, a couple of minor hits and a few minivans later, two-thirds of the trio have reunited.

Smart Remarks celebrated the vinyl-only release of Foreign Fields: 1982-1984, a compilation album consisting of two tracks originally featured on a 7-inch single and five other tracks from their Seriously Speaking EP, on Feb. 17 at Randy Now's Man Cave. Randy is the brother of founding member Tod "the Mod" Ellis, and he wrote the liner notes for Foreign Fields. Ellis played an hour-long acoustic set at the release party, and original bassist Chris Gordon joined him about halfway through. 

Ellis credits the internet with the renewed interest in his band. It came to his attention that the original 45 and EP were selling around the world for $200 to $350 on eBay. "A local record place in Brooklyn contacted us two years ago to rerelease on vinyl," he said. 

The label that released Foreign Fields, Manufactured Recordings, is a company specializing in re-releasing hard-to-find vinyl records from the 1980s. Randy purchased 50 of the 500 records that were pressed, and is selling them at his store, the first one in the United States to carry the record.

Ellis was surprised to see that Smart Remarks was recently featured in a Portuguese music magazine, Alsinate fanzine. "They are crazy about '80s power pop," he said. "They featured us. It is amazing. You wonder how people will find the stuff. They find you and they like you. Our 45 sold in Singapore and Japan. Over the past 25 years, it became a world-wide thing."
The new record was released in the United Kingdom, Japan and the United States.
Smart Remarks formed in 1980 with three Bordentown Regional High School friends from the Class of '81: Ellis, Gordon, and Anthony "Ant" Barbalace. Ellis and Barbalace met in Kindergarten, and Gordon entered the picture in seventh or eighth grade. The classmates enjoyed playing original punk and power pop music at street fairs and other local venues. Ellis wrote the lyrics and played guitar. Gordon played bass, and Barbalace accompanied on drums. In 1982, the band cut a 7-inch 45 with A-side track "Was it Something We Said…" and "Mary's Got Her Eye on Me" on the B-side.

From the beginning, the band decided to only play original music, as opposed to covering the music of other songwriters. They were inspired by early power pop groups like Paul Collins' Beat, The Records, The Knack and Dirty Looks. Ellis, who wrote all of the band's music, was especially influenced by Paul Westerberg of The Replacements. "Tod would come up with a song almost written," Gordon said. "We'd understand what he was thinking and we'd play together. We hang out, and I like to catch up with him. I love his stuff and his style."

"We were having fun," Ellis added. "We never took it that seriously. We were the best of friends. It was the greatest of times." They had some early success opening for bigger bands in music clubs in Philadelphia and New Jersey. They appeared regularly at City Gardens in Trenton, where Ellis's brother, Randy, worked as the venue's promoter. City Gardens helped put many bands on the map—many of whom Smart Remarks opened for.

"We opened for The Ramones, Haircut 100, Joan Jett and the Blackhearts. 'I Love Rock and Roll' had just come out when we opened for Joan Jett," Ellis said. "We were a power pop trio. We appear on 'Best of the 80s' compilations of bands you don't know. We were three local boys. If we had taken it seriously, we could have landed a record deal. We were just three knuckleheads having a blast playing in front of 1,200 people. We opened up for five or six bands in the Rock and Roll Hall of Fame right now."

Their music also appeared on local college radio stations, including WTCR out of then-Trenton State College, where Randy had his own radio show. After the release of the single "Was It Something We Said…", Barbalace moved to North Carolina, and Steve DeStefano joined Gordon and Ellis. He appears on their second album, a five song EP called Seriously Speaking, which was released in 1984.

One of Smart Remarks' "claims to fame" is a "feud" they had with Kelly Ripa, Ellis said. Ripa grew up South Jersey, and is now the host of "Live! With Kelly."

"In 1984," Ellis said, "there was a local show, 'Dancing in the Air,' out of Philly. She pops up in this video of our single 'Mary's Got Her Eye on Me.' People keep posting this video of her with red hair and a red bikini. Her people remove it." They have tried to post the video without her name, but once someone posts a comment with her name in it, it gets removed again. Ellis gets a great laugh out of it.

Smart Remarks "fizzled off in '86 or '87 and we went our separate ways" after the guys spent a couple of years working at the Ocean Spray plant. As Ellis put it, "everyone grew up and had kids and got minivans. Can you imagine 35 years later we'd be talking about this?" DeStefano and Barbalace moved out of the area. Though they keep in touch, they do not have the same opportunities to play with each other. 

Gordon said it's been a while since he played the bass in public. "It was a great opportunity to bring out the bass," he said. He joined Ellis on "Machine's Working Overtime," the song that was on the B-side of the original 45, and "Mary's Got Her Eye On Me." "That was a fun song," Gordon said. "It was a fun to play as well with the bass."

These days, Gordon's playing is "relegated to the couch." A couple of years ago, he added, he met up with Ellis to play some of Ellis's newer music.

Musical talent runs in Gordon's family. His daughter, Rachel Gordon, is a beautiful singer, he said. 

"Her work is amazing," he said. "I was never a singer. I could hear music, and I knew where it was going. She gets all my vocal talent. I'm trying to get her to play with us, to loosen us up and sing. It is such a great feeling to sing, to be in music. I'm a great follower. I can jump in and help support Tod. He is song writer and singer. It is in his blood. I love singing and playing with him."

Ellis has been a chef for the past 38 years. He is the head chef and pit master at Lambertville's More Than Q Barbecue Company, where he smokes all the restaurant's meats. Gordon has his dream job as an environmental health and safety regional manager. "I've been doing this such a long time," he aid. "I wanted to go out and have the responsibility for multiple sites and deal with people in these sites. It worked out."

Ellis is pleased with how the release party turned out. "It went really good," he said. "It was real nice, and real fun. I saw some old friends. We still have a following out there. We are on a Spotify. I made a little mark in music. Everyone in the world can listen to your tunes now." He continues to perform. "I'm looking to Scott Evans," the 'fourth member' of the band," and the person who produced the first album. "He was at the show. He persuaded me to go back. I've always been out there."

Gordon said the party was a good opportunity to reminisce and perform with an old friend.

"We've been playing together since we were 14 or 15," Gordon said. "We started at Ocean Spray together and went our different ways. The other night was a really great way to put it back together."
Today
,
Community
,
Arts+Entertainment
Smart Remarks
Tod Ellis
Chris Gordon