Monty Python musical 'Spamalot' set for March 2-4

Mar 01, 2017 06:04AM ● Published by Community News Service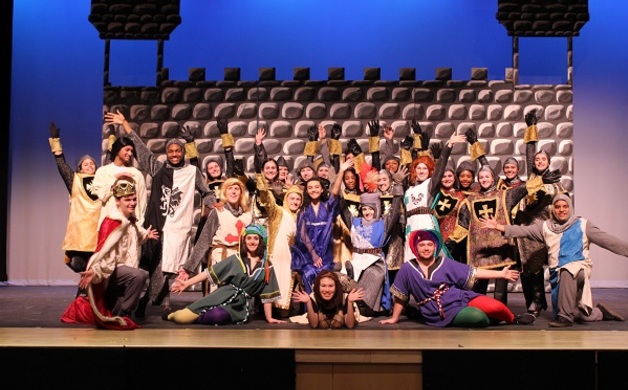 The Bordentown Regional High School theater students are set to present Spamalot from March 2 to 4.

A musical adapted from the classic film comedy Monty Python and the Holy Grail, Spamalot retells the legend of King Arthur and his Knights of the Round Table and features a bevy of beautiful knights, strong ladies and a shiny cup, not to mention cows, killer rabbits and French people. This production is recommended for audiences ages 13 and up.

The 2005 Broadway production won three Tony Awards, including "Best Musical," and received 14 Tony Award nominations.

Featured in the cast are Bordentown Regional High School students Varun Andrews, Joshua Arevalo, Jack Ashfield, Lucas Bergen, Evan Braasch, Daria Briggs, Jared Brown, Ave' Corbitt, Nicomah Faiz, Abigail Rose Gunther, Shannon Hansell, Abigayle Harnum, Miranda Krause, Kayla Lane, Isabella Mayo, Catherine Mercantini, Adia Morris, Calvin Okulicz, Melanie Peterson, Courtney Quinn, Lauren Redwood, Sarah Reichard, Annissa Richard, Nathan Scranton, Rachel Scranton, Alexis Strandquest, Raelyn Swanhart, Gabrielle Takacs and Hannah Vliet.

In 2012, Bordentown Regional High School's musical, Legally Blonde, was awarded the Greater Philadelphia Cappie Award for Outstanding Musical. Over the past six years, the Greater Philadelphia Cappie Awards have honored BRHS theater performances with over 30 nominations and 11 awards. Bordentown's theatrical performances have also been honored with awards and nominations from the New Jersey State Thespian Festival and the New Jersey Theater Night Awards. Bordentown Regional High School is home to International Thespian Society Troupe 6803.

Performances of the musical, with book and lyrics by Eric Idle and music by John Du Prez and Eric Idle, will be given at 7:30 p.m. each day at the Bordentown Performing Arts Center. The 942-seat Bordentown Performing Arts Center is attached to Bordentown Regional High School, located at 318 Ward Ave.
Tickets are $10 for adults and $8 for seniors and students. They can be purchased in advance at 
seatyourself.biz/brhs
, and will also be sold at the door. For information on the performing arts at Bordentown Regional High School, visit 
bordentown.k12.nj.us
, email bordentowntheatre@yahoo.com or call (609) 496-1452.
Today
,
Arts+Entertainment
,
Schools
Spamalot