Have ink (and needle), will travel

Mar 01, 2017 06:13AM ● Published by Community News Service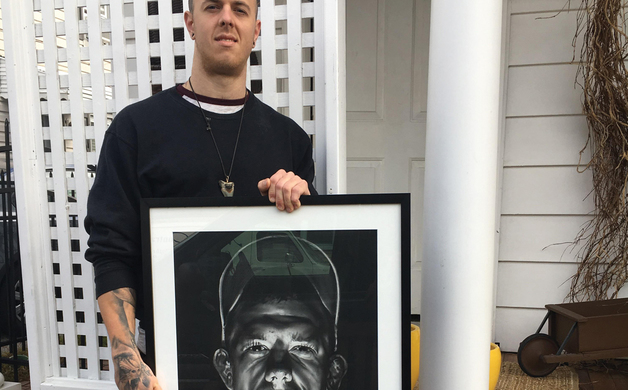 Zac Bohanan with his art.
By Giuliana Grossi

What started as a summer trip to Georgia turned into something much more for Zachary Bohanan.

Bohanan spends his days creating permanent art on people's bodies in a tattoo shop in Wrightstown called Skin Illustrations Tattoo, but he started to learn his craft in Gainesville, Georgia.

Bohanan, 26, went to Clara Barton Elementary School, MacFarland Intermediate School and graduated from Bordentown Regional High School in 2008. He attended Burlington County College but dropped out after a semester because, he says, traditional college wasn't for him.

A year later, he enrolled at the Hussian College, School of Art, in Philadelphia. He didn't have any specific career goals at the time, but he chose to study illustration and graphic design. Bohanan had always had a passion for art, and took art classes all four years at BRHS.

"I never really thought I could do [art] as a career," he said. "I just kind of put it on the back burner when I graduated high school, but then it just popped up again. I just never took it seriously."

Never, that is, until he moved to Gainesville, a town about 50 miles northwest of Atlanta, in 2012. Bohanan went to Gainesville to shadow a tattoo artist. Bohanan's dad, Jim , lives nearby, so he stayed with him while there.

After he arrived in Gainesville, the apprenticeship fell through. But he opted to stick around and look for an opportunity at another tattoo shop. The first one he found, New Vision Tattoos, turned out to be a perfect fit. He met up with an artist who goes by the name Repo X, who agreed to let him apprentice at the shop.

His plan was to stay at New Vision for the summer and go back to school for the fall semester. But as his return to school loomed, he realized that he enjoyed tattooing too much to go back to school. "I was going to stay down in Georgia and build up a portfolio to bring back to my hometown," he said.

He dropped out of art school and spent the next three years learning and practicing alongside Repo X. Training with Repo X was challenging, Bohanan said. "You draw a lot, you trace a lot, and then you practice on pig skin. It was pretty cool. I learned a lot about myself," he said.

As is the case in many apprenticeships, training started with small tasks, like maintaining the shop and cleaning the ink tubes. New Vision Tattoo opened at noon, and sometimes the last scheduled appointment of the day would be for as late as 11 p.m. Bohanan recalls times when he didn't leave until 6:30 a.m.

The hard work didn't scare Bohanan—he faced it head on. "You had to just be at the shop to learn," he said. "The first year of my apprenticeship, I was there every day. I didn't take one day off. You just put that in your front-mind, that you just had to be there to learn."

Bohanan practiced on pig skin for a while before he was ready to work on people. "When you start practicing on people and giving out free tattoos, that's when you really learn," he said. At first, he did a lot of simple, black tattoos and Asian characters.

Bohanan returned to Bordentown in 2015, after three years in Gainesville. His friends were reaching out to him to come back to New Jersey, and he "missed the hustle," he said. "Georgia is a little too slow for me."

Bohanan returned to Bordentown around the same time that Eric Backlund, the owner of Skin Illustrations, bought and reopened the tattoo shop, which had been closed for about a month for renovations. Backlund had been an employee at Skin Illustrations and seized the opportunity to run the shop after the previous owner decided to move on.

Backlund actually did Bohanan's second tattoo, when he was 18 years old. It wasn't long after Bohanan's return that he found himself working with Backlund at Skin Illustrations, and he's been there ever since. "I don't consider my job as a job, pretty much," Bohanan said. "I just come in and I tattoo. It's stress free."

The first part of the tattoo process is usually meeting with a client and going over ideas. Bohanan goes over what works and doesn't work as a tattoo. He said drawing and designing a piece can take as little as 10 minutes or as long as five hours.

"You're also always thinking about the tattoos," he said. "You're designing in your head throughout the day or week. It's always on the mind."

The best part of the job is meeting people, Bohanan said. "You put something permanent on someone's body, you know, you just share that with your client." He has many steady clients and relies on word of mouth and his social media accounts for advertising. He's met many different people in the shop, from nurses and military personnel to teachers that taught him while he was in school.

Bohanan eager to connect with clients, but he is also keen to learn to from other artists. "You just take everything, you learn something new from everyone. You just have to be open minded, too. You can't be stuck in one way," he said.

Clients go to him mainly for his skill with realism and black and gray shades, though Bohanan said he's certainly not limited to that. "I like doing everything," he said. "I think that's your job, too, to make whatever comes in the shop look good."

The longest time Bohanan has spent on a tattoo in his four years of tattooing is 10 and a half hours in one day. The tattoo was a detailed black and gray depiction of the Salt Lake City town hall, where his client got married.

Bohanan also does some freelance drawing, specifically portraits. He favors using charcoal pencil to create intricately shaded portraits. The attention to detail that's evident in the black and gray tattoos he's done are also on display there.

Bohanan has multiple tattoos himself. He has ink on his hands, arms and legs as well as a black design above his ear. His tattoos have been done by different people he's worked with and learned from in his career. Though he was reluctant to choose any as favorites, he especially likes the gorilla he has the top of his hand and the shark tattoo he has on his leg.

If Bohanan isn't at the shop, there's a good chance he'll be outdoors hiking or riding his bike, hitting the gym, spending time with his girlfriend or eating a burrito with a side of pancakes at Angie's Family Restaurant.

Examples of Bohanan's artwork can be found on Instagram. User name: zacbohanan.
Today
,
Arts+Entertainment
Zac Bohanan
Repo X
New Vision Tattoos
Skin Illustrations Tattoo