Wrestler books return trip to state championships

Mar 01, 2017 06:22AM ● Published by Community News Service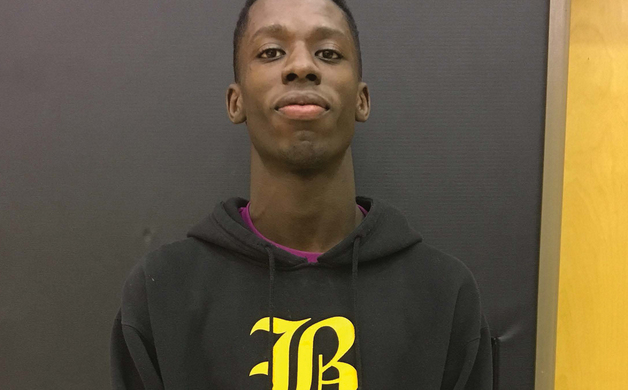 BRHS wrestler Verlensky Joachim also plays soccer.
By Rich Fisher

Few things try the patience more than waiting for a ride to show up. But in the case of Verlensky Joachim, it's one of the best things that ever happened to him.

As a seventh grader at Bordentown Regional Middle School, Joachim was done competing in an after-school geography bee and was forced to wait for his brother to finish wrestling practice before they could get a ride home. To fight the boredom, Joachim wandered onto the mat for the first time in his life and went against some guys.

Coach Charles Lynch was impressed by what he saw, and Joachim's life was instantly changed for the better.

"Nobody could take me down," he said. "The coach said, 'Promise me you'll come back tomorrow.' I signed up right away, and the next day I went back."

Just like that, a wrestler was born.

After finishing second in the District 21 Tournament on Feb. 18, Joachim, now a high school senior, was preparing for region competition in hopes of making his second consecutive trip to Atlantic City for the NJSIAA State Wrestling Championships. He has come a long way from the streets of Haiti, where he played soccer, the only sport he knew. He and his family moved to New Jersey nine years ago.

"I was always a soccer player, that was always my first sport," Joachim said. "It was a big difference when I came over here. In Haiti I used to play in the streets. I never played on any team or anything like that. It was just street ball with my family and my friends."

Street ball may have improved Joachim's skills at more rapid rate than perhaps a U.S. travel team player who might just see the ball 20 percent of the time during a game. Joachim always had the ball at his feet, and "it made me very technical."

Unfortunately, it also made him think he should always have the ball, which did not sit well with Scotties coach Mike Brennan when Joachim showed up in ninth grade.

"Mr. Brennan told me if I wanted to become a good player, I'd have to play with my teammates," Joachim said. "I was really selfish. I just wanted the ball to myself. It was just the way I was brought up playing soccer."

He soon adapted and collected 15 goals and 11 assists as a four-year varsity performer. And his unselfishness made friends.

"He is often the most liked person on his teams," Brennan said. "He's the fittest person on his teams, and he's a great leader."

And while he maintained his soccer career, Joachim discovered a new love on the mat. He had a solid first season in seventh grade and, as an eighth-grade captain, he lost just once all season.

When he arrived at Bordentown, then-coach Joe Sprague had the lightweight wrestling up at 138 and 145 just to give him varsity experience.

"That helped me a lot," said Joachim, who finished 9-18 during that season. "I got a lot of good experience. If I waited until my sophomore year to wrestle varsity, it would have been a lot different for me."

"You could see he was very athletic as a freshman," said Matt Benedetti, who's in his first year as Scotties head coach after four seasons as Sprague's assistant. "He needed to learn all the fundamentals, and he came in as a soccer player, so he wasn't really sure if he wanted to wrestle all year round, that kind of stuff."

It didn't take long for the coaches to see that the dedication was there.

"His work ethic is second to none," Benedetti said. "He's the first in and last out in the wrestling room. He puts in all the extra time. It's a unique sport, you've got to be a little crazy in the head to want to wrestle. He likes the challenges, and he wants to try to meet his goals."

Joachim returned as a sophomore, dropped down closer to his natural weight and had a winning season going predominantly at 132 and 138. He also learned a lesson when he got upset in the first round of the districts after receiving a third seed.

"I was really down," he said. "I lost to a kid from Cinnaminson and I was really upset because I should have placed that year. I just came in and never thought I could lose. I learned not to be that way."

That summer, Joachim took the next step.

"He really turned it on, going to wrestling clubs and going year-round," Benedetti said. "Last year, with all that work he put in, he made it out of regions and got down to Atlantic City."

But it wasn't easy, as Joachim had to win third-place consolation bouts in both the districts and regions. That's often difficult for a wrestler since they have to bounce back from a loss, but Joachim was not getting denied.

"His motor is always running," Benedetti said.

After beating Moorestown's Will Corbi in the regular season, he lost to Corbi a week later in the district semifinals but came back to beat Delran's Louie Rossner in the third-place bout. Joachim beat Corbi again in the regions, but then finished on the wrong end of history when Northern Burlington's Anthony Foggia pinned him for his 100th win.

"I was really embarrassed and started freaking out," Joachim said. "I told Sprague I was ready to quit. Sprague got in my face, shook me and said 'We're going to AC! Get your act together!'"

That's exactly what happened when Verlensky came back to take a 9-5 decision over Cherokee's Ryan Manahan to become a 126-pound state qualifier.

"I just went out there and did my stuff," he said. "I was never down in that match. It was my match to win from the start."

Then came states, which is an event like no other for a young wrestler. Despite the fact he lost two straight, it was worth the trip.

"Just having that experience is great," Benedetti said. "When you're in Boardwalk Hall for the first time and you're down on that arena floor and all those people are up in the stands, it's a little overwhelming if you've never been at anything like that. It was just a very good experience. His goal from the beginning of the season was to get to Atlantic City and he met his goal."

Despite his quick exit, Joachim wouldn't trade the trip for anything.

"It was really good, that's why I want to go back," he said prior to this year's regions. "I don't expect to lose both matches. Obviously, it was my first time and I was clueless and this year I want to go back and win some matches down there. It was really crazy going for my first time. I heard about it. I didn't know what all the hype was. When I walked out from the locker room and saw all these people, I was really amazed by it. I was really nervous. Other guys that had been there before, already were warming up and I didn't know what to do, I was just standing there."

This season his record stood at 28-3 after finishing second at 126 pounds in districts. Joachim had his first region match on Feb. 22 and was confident he would get through.

However things transpire, his wrestling career is far from over. In a move that has surprised both him and his family, Verlensky has chosen the mats over the soccer pitch and said he will wrestle at either York College of Pennsylvania or The College of New Jersey next year.

"I never thought I would be wrestling," he said. "But wrestling is my new path."
All because he had to wait for a ride home. Talk about a fortunate inconvenience.
Sports
,
Today
,
Schools
Verlensky Joachim