Persisting, one march at a time

Apr 03, 2017 09:26AM ● Published by Community News Service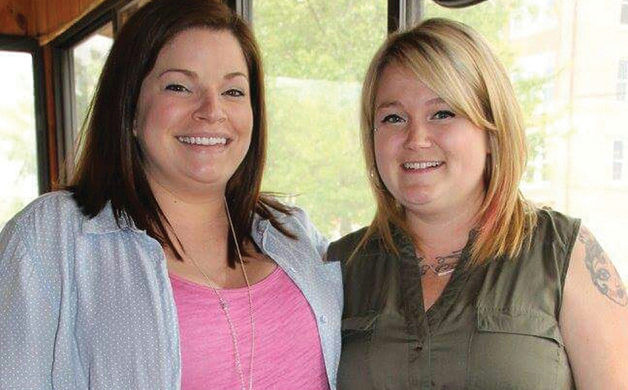 Samantha Stark, left, and Ashley Huffman are longtime friends who led a women's march in Bordentown City last month.
By Giuliana Grossi
Walking down Farnsworth Avenue with 60 men, women and children illuminated by candlelight, Ashley Huffman and Samantha Stark couldn't help but feel inspired. The two organized and led a candlelight march in Bordentown City on March 8, International Women's Day.

It was the first demonstration held by Huffman and Stark as part of their organization, Resist and Persist NJ, which they launched in February.

"Watching our community gather and rise up in support of women's rights was inspiring," Huffman said. "It's so east to feel discouraged and that your voice can't be heard. But seeing members of all ages and genders and races stand up gave me hope that together we can and will be heard."

The group formally started on Feb. 12, the direct result of the original Women's March on Washington Jan. 21. The founders of the Women's March urged participants and supporters to take 10 actions, like reaching out to legislators. One of the actions on the list was to "huddle" with people in the community to discuss views. Huffman and Stark's first initial huddle had 15 attendees. That grew into Resist and Persist, which now has upwards of 100 members.

Huffman said the first step of planning was to contact the Bordentown Police Department to make sure they were permitted to march. It started with 11 people RSVPing on Facebook, but over 60 showed up. The group has had two formal meetings at the Dorothea Dix Unitarian Universalist Community since it was founded. They plan to host one meeting per month.

Both Huffman and Stark are lifetime Bordentown residents. Their parents grew up in Bordentown, as did their husbands, Paul Huffman and Chris Stark. Each family stayed close in the community.

Huffman's parents, Jeff and Karen Lubbers, have been married for 30 years and still live in Bordentown with Stephen Lubbers, Huffman's 24 year-old brother. Jeff is now retired, and Karen is a guidance secretary at Robbinsville High School. Stark's mother, Terri Platas, and sister, Sara Platas, are both active with the group. Her father, Ron, died in 2012.

Huffman and Stark have been close friends for over five years. They met through Huffman's husband, and Stark eventually pulled double duty at their wedding, both officiating and serving as maid of honor. The Huffmans now have a three-year-old son, Wyatt, who Stark called "sassy." Huffman finds that when Wyatt wants something he'll say, "Please? I'll give you a hug when we go home." They also have an eight-month-old daughter, Poppy.

"We have conversations and he's just so funny," Huffman said. "He likes to bribe me now."
After graduating from Bordentown Regional High School, Stark pursued filmmaking at Drexel University. The high tuition, though, made her switch her field of study.

"It was my pipe dream," she said. She didn't complete her education at Drexel, but she did study business and marketing for the three years she attended.

During the day, Stark works as an administrative assistant in a physician's office and says she uses the business skills she learned at Drexel often. She couldn't say enough good things about her workplace. "Everybody comes from different walks of life, different political backgrounds, different religious backgrounds," she said. "We're all adults and can all have different opinions."

Huffman went to cosmetology school and was styling hair until about four weeks before she gave birth to Poppy. Stark was amazed at Huffman's ability to be on her feet all day at work while eight months pregnant. 

Since then, Huffman's taken a hiatus from styling to work with a friend at her daycare center, so she is able to spend all day with her two children, as well as Stark's son, Emmett. Stark almost envies Huffman for being able to spend so much time with Emmett, but she knows he's in good hands.

"It's definitely challenging working and having such a young baby because his bedtime is literally 6:30, maybe 7, so by the time you get home, you don't get to see him that much," Stark said. "But he's so great. He's like a different kid every day."

Huffman and Stark joke that their work days are polar opposites because Huffman works primarily with children, and Stark works primarily with an older clientele. As much as Stark loves her job, picking up Emmett from daycare is the best part of her day. "Emmett's awesome," she said. "He's the happiest guy in the world, he loves to talk about absolutely nothing. The babbling is out of control."

Huffman and Stark both went through the Bordentown school system, and so will their kids. Stark shared that a major reason she and Huffman decided to start the Resist and Persist group was thinking about how the present might affect the lives of their children in the future.

"There's a lot of turmoil going on right now, and we wanted to make sure that we were on the right side of history," Stark said. "Something we could tell [our kids] when they learn about this in school down the line is that we didn't just sit on the sidelines, we did our best, and we did our due diligence to make a difference."

They said many of the group's members are parents that are worried about how the education system could change, among other issues. During the election season, Stark was on maternity leave getting ready to give birth to Emmett, who is now 10 months old. She spent a lot of time keeping up with the news which prompted some conversations with her 11-year-old stepson, Liam, about current events and how he's been following the election in school.

"It's difficult to find that happy medium by having him be aware but from a naive standpoint," Stark said.

Huffman and Stark were inspired by the many peaceful marches and demonstrations that have happened over the last couple of months, and they wanted to convey the same message in their own way: to peacefully march down Farnsworth Avenue. Huffman stressed the important of peace.

"It's not always protests and signs and fighting," she said. "We're just coming together for a nice little walk, and these things are important to keep the momentum going."
Stark agreed.

"The goal was to stand in solidarity with women and express how important this is not only to us but to our husbands, to our brothers, to our fathers, and to find the next step, to yet again put a demonstration into an action," Stark said. "It's these little organic meetings, these little cells of actual constituents, of actual concerned voters and people that want to be active and want their voice to be heard."
Today
,
Community
Resist and Persist NJ
Samantha Stark
Ashley Huffman