The time to talk is now

Apr 05, 2017 07:00AM ● Published by Samantha Sciarrotta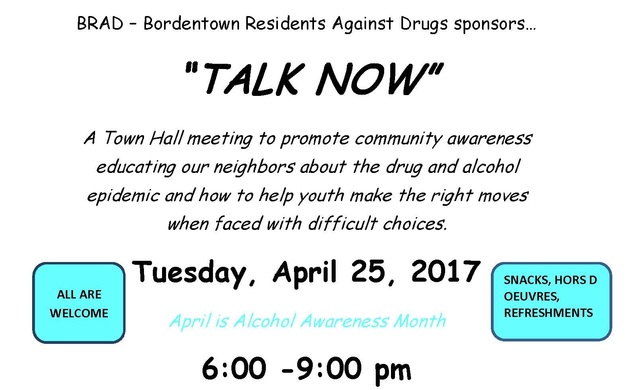 By Samantha Sciarrotta

Bordentown Residents Against Drugs, founded in 1991, has ebbed and flowed over the years. But the growing opioid crisis has the group back on track and hoping to make positive change.

The first step in the process is "Talk Now," a town hall meeting set for Tuesday, April 25, 2017. The event, to be held at the Carslake Community Center from 6 p.m. to 9 p.m., will feature a panel discussion with Kevin Meara from addiction resource City of Angels, a person in recovery from an opiate addiction, a mother who lost her son to addiction, a student from the Bordentown Regional High School epidemiology class and acting Bordentown Township Police Chief Brian Pesce. There will also be vendors, resources and snacks, as well as yoga, music, art and activities for children.

"For a lot of years, it was the same group of us that just sat there, and I felt like we were stagnant," said BRAD coordinator Cindy Gola. "It's exciting to me to see us moving forward, people getting involved, bringing awareness to the community that there's help out there. They're not in this alone. We're all in this together. For me, we've got to help our kids. I just worry about the teenage kids. We lost nine in six years. That's a lot to lose in a little town."

BRAD is part of a statewide program of municipal alliances aimed at the prevention of alcohol and drug abuse. It was launched as part of an early-90s Governor's Council on Alcoholism and Drug Abuse ruling that encouraged New Jersey towns to provide substance abuse education and prevention programs. BRAD serves both the township and city.

The organization has had its periods of inactivity, but the drug problem is growing in Bordentown—nine BRHS graduates have overdosed in the last six years, and the Bordentown Township police department deployed Narcan, a nasal spray intended to reverse the effects of an overdose, three times in one week in March.

It's why efforts like BRAD are needed, said Nell Geiger. Geiger is the Student Assistance Coordinator at Bordentown Regional High School, and she has served as the BRAD school representative for the last four years. 

Geiger said the best thing BRAD can do is educate, especially young kids and teens. She often invites recovering addicts to visit the school and speak with students, and she says that is one of the most effective tactics she can use.

"We've done surveys, and the kids say by far, listening to a speaker in recovery is the most effective message because they've been through hell and they come back from it," she said. "It's certainly a path that they don't want to go through. Also, from a parent perspective who's lost in their son or daughter's addiction, it gives them hope that there is a way out."

Gola agreed. She hopes to see BRAD become a resource for residents struggling with addiction within their families, as well as current and recovering addicts and alcoholics. The way to do that, she said, it to reach kids.

"Peer to peer is the best," she said. "When we bring in recovering addicts that are young, and they're telling it in real talk, that's when it gets across. There's even curse words. But the kids react to that. They get it from a peer. It's much better than an adult standing up there talking."

Gola, who has been involved with BRAD for four years, acknowledged that it can be hard to be a high school or middle school student. Through BRAD, she hopes to focus on peer pressure and saying "no" in the coming year.

Moore added that offering other activities at the town hall like yoga and artwork might inspire someone, especially teens, to divert from drug and alcohol use. There are other choices, he said.

"One of the problems with young people that get involved with drugs and alcohol is that they don't feel like they fit in," Moore said. "School sports, school activities, drama club, that might not appeal to them. Maybe if we get some artists, some yogis, some people carving wood or doing something like that, we might have some kid say, 'Hey, that's something I'd like to try.' Give them something to do besides get loaded on the weekends."

Panel-wise, Pesce plans to discuss fentanyl, a drug that often pops up in baggies of heroin, whether or not the user knows it's there.

"They think they're buying heroin, when actually, it's pure fentanyl, which is 50 to 100 times more potent than heroin," he said at a BRAD meeting on March 21. "That's why we're seeing a lot of these overdoses. That's very concerning to us, and it's concerning because a lot of people who come to these meetings are parents of opiate-addicted children."

Even handling fentanyl can cause adverse effects, and Pesce has seen that firsthand—officers in the field seize the drug and may become exposed. It's an issue that parents may not be aware of, he added.

"A lot of parents, their kids will go to rehab," he said. "They'll clean out their kid's room, take these empty bags, collect them and throw them in the garbage. Touching those bags puts yourself at risk because of this proliferation of fentanyl. We want everybody to take the necessary precautions and make them aware of this issue."

The group has held two or three town halls over the last five years—though the last one had a "huge turnout," Geiger said, that's not always the case.

Geiger has hosted events like parent nights through the high school and recently held a session where an FBI agent came to talk to parents of students about opiates. About 12 people showed up, she said, and it was like "preaching to the choir." The key is getting families with young children and resident who might not have showed up otherwise to come out.

She has the same philosophy about BRAD as a whole.

"That's the age-old question: how do you get people out?" she said. "I find these town halls are great. The biggest thing is recruitment and really getting families involved so that everybody gets to know BRAD."

As more people get involved, more conversations about drug and alcohol dependency will start, she said. And that is exactly what Gola thinks Bordentown needs: to talk.

"I think we're starting to talk about it, which needs to happen," she said. "People keep things very personal and quiet. I think we just all need to keep talking about it, dialogue about it. When you start talking about it, somebody will say they have somebody also. It just starts a conversation. We're moving forward in this community, and I think it's a good thing."
Community
,
News
Town Hall
Bordentown Residents Against Drugs
BRAD