Pastor feeling at home at First Baptist

Apr 13, 2017 06:59AM ● Published by Community News Service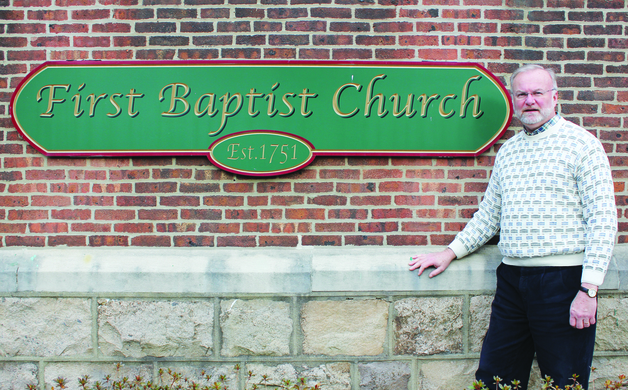 Rev. Mark Stauffer joined the First Baptist Church of Bordentown last September.
By Rev. Mark Stauffer

The First Baptist Church of Bordentown welcomed the Rev. Dr. Mark A. Stauffer as its 29th pastor in September. Pastor Mark, as he likes to be called, believes God has led him and his wife Lynne, back home after growing up in the Philadelphia area, he said. First Baptist Bordentown has a long, rich history, dating back to 1751. Stauffer wrote an account of his first six months with the church.

Full-time ministry has been a second career, so to speak, for me. Upon graduating from Eastern College (now Eastern University) in Saint Davids, Pennsylvania, I entered the business world as a manager and loan officer with several local financial institutions. In the early 90s, I worked in a business partnership selling and installing utility meters. It wasn't until the mid 90s that God called me to full-time ministry. I hold a Master of Divinity and a Doctor of Ministry degree from Palmer Seminary, now in Saint Davids.

I come to Bordentown after having served churches for the last 23 years in Norristown, Pennsylvania; Silver Spring, Maryland; and Alderson and Saint Albans, West Virginia. My wife Lynne and I have been married 39 years, and we have two children and one granddaughter. I love to travel, do home improvement, and love sports. So, coming home to be closer to the Phillies and the Eagles also accentuates my dream.

Coming to Bordentown has been an exciting experience. The church has welcomed us with open arms and open hearts. They take this hospitality thing very seriously. Though we are still getting to know everyone, it feels we've known many of these fine servants of Jesus much of our lives. These loving people have done all they could do to make us welcome and comfortable in our new home here in Bordentown.

I remember the weekend we arrived, they met us on the doorsteps, filled our refrigerator and pantry with food and took us into their homes while we waited for our furniture to arrive. The whole first week, full-course meals were delivered to our door by smiling faces and gracious hearts. They really wanted us to feel welcomed. These people have a passion for reaching out both financially and physically to their own, this community, and beyond.

First Baptist certainly doesn't sit still. We are active in service at the Saint Mary's Food Pantry, and we also have volunteers who make the trek to Trenton once a month to serve those at the Trenton Area Soup Kitchen. Additionally, we've supplied each of these two organizations regularly.

I am so proud of our Motel Ministry, too. We provide hot meals and groceries to the residents at three Bordentown motels. I remember the first time I knocked on the doors of these motels, I was humbled—some people were there on a temporary basis, while others had made these small rooms, with limited amenities, their permanent home. There are single adults, couples, and mothers with children coming from all walks of life who are thankful for the provisions they receive.

Since that first trip, I can't get their faces out of my mind, and I pray every day for God to lead us to do greater things to meet the needs of the homeless and transients of Bordentown. One way we are going to do that is by installing a Blessing Box at the church entrance. This has become a popular ministry around the country, and First Baptist sees this as an opportunity to supplement the local food pantry ministry by making nonperishable items available to those in need on a 24-hour basis.

Community members will be able to visit our Blessing Box and place items in it at any time for those who are in need, and likewise, those who need can come and take at any time during the day and night. Partnering with the community in this way is critical to the growth of God's kingdom.

Each Sunday, men from the church take turns leading worship at a local truck stop. I am so proud of our truck stop ministry. It not only changes the lives of a few truck drivers and transients, but it has also deeply enriched the lives of the men who lead them.

I have watched how passionate our Women Society is towards mission and helping others. They are continuously looking for ways to serve. In the previous churches I served, the women's ministries have been unfortunately dwindling in numbers, or were nonexistent. Not here. These women are amazing. They are active throughout all generations.

Since my arrival in September, our youth have become more active. Our youth group now meets weekly on Sunday afternoons. Generational ministry is important to us here at First Baptist, and we are active in helping younger generations serve together alongside our seniors. I recently overheard one of our youth say how much fun she had helping out at the Fall Bazaar.

Caroling at Christmastime to area nursing homes, and most recently honoring the Bordentown police and firemen, have been important and meaningful experiences to our youth, as well as those honorable men and women. It has been exciting to watch their enthusiasm and their passion for Jesus. They look forward to a mission trip this summer right here in New Jersey.

These first six months have been truly a blessing for me as this church's pastor. Sunday morning worship has been such a meaningful experience leading this congregation through themes outlining our purpose as created children of God, stewardship, the season of Christmas and recently their role as a transformational church. With one of the largest church choirs in the area, led by such gifted and faithful musicians, I truly appreciate the traditional music blended throughout our service.
Today
,
Community
Mark Stauffer