After opening Holiday Inn, family reflects on old and new

Apr 25, 2017 12:38PM ● Published by Community News Service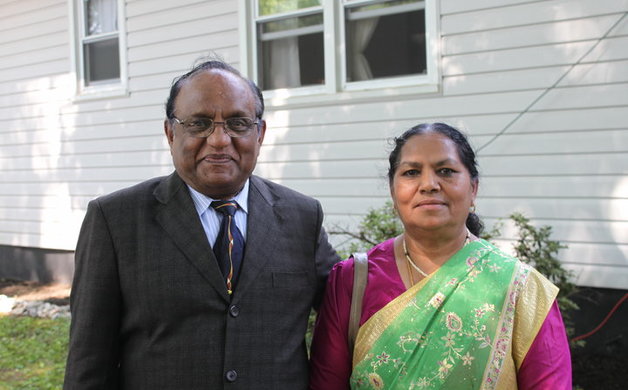 Dinker and Martha Taylor lived on the former Edgewood Motel and Mobile Home Park property on Route 130 for 30 years before razing the site and opening the new Holiday Inn Express this year.
By Frank Comstock

Years of research and planning combined with two years of clearing land, construction and hard work, have resulted in a local family's dream becoming a reality in Bordentown. Dinker and Martha Taylor and their four adult children—Stella Tomasi, Alkesh, Anita and James—take great pride in the new Holiday Inn Express hotel on Route 130, which replaced their former place of business, the Edgewood Motel.

The Taylors lived on the Edgewood property for almost 30 years while ensuring all their children attended college and received advanced degrees. Now the Taylors have involved their family in the town and envisioned a bigger, fancier hotel they could call their own. That dream came true recently with a ribbon cutting for the 101-room, three-story hotel with a large conference room, breakfast area, fitness and business centers, and a pool waiting patiently for better weather so it can be completed.

Coming from Ahmedabad Gujurat, India in 1977, Dinker and Martha hoped for the day when they could own something of their own. Dinker was 37 when they arrived, and Martha was 32. They initially settled in Philadelphia, where the family lived until 1984.

With Dinker working as a medical technologist supervisor and Martha as a registered nurse, they saved their money and worked toward their vision. A friend suggested they get into the hotel industry, which brought them to the Edgewood Motel and Mobile Home Park property in Bordentown. They decided to stay in Bordentown full time. It was a family-friendly town that Dinker and Martha were comfortable raising their children in, James said.

Stella emphasizes the family's deep involvement in the new venture.

"They were humble beginnings for my father," she said. "None of us were born in this country except my brother James. It took my dad many years to get to this point. All of us have other jobs, but we're pitching in to help. This property has been our home. We grew up here, running and playing on the property. When we come back now as adults, we're home. This town is really important to us. We grew up here."

Tomasi and Alkesh stressed Martha's role in running the Edgewood Motel and the adjoining mobile home park. When Dinker was a night supervisor medical technologist at JFK Hospital and then Frankford Hospital (now Aria), he assisted at the hotel during the day. He retired about four years ago.

Martha, a former nurse, took on the challenge of daily management of the motel. She ran the front office, helped guests with anything they needed and even cleaned rooms many days.
Tomasi particularly remembers Christmastime when her mother baked and then delivered cookies to each hotel guest and each resident of the mobile home park. James says his mother was even known to visit rooms at the Edgewood Motel in the middle of the night if she thought guests were partying too hard.

Martha and Dinker are devout Christians who raised their four children in the Methodist church in Bordentown. Today, Dinker serves as pastor and president of the Gujarati Christian Fellowship of Philadelphia, which he founded in 1982 when he realized there was no church speaking for Gujarati people in the Philadelphia area.

"Since there were not many families here at the time, we all used to sit in each other's homes every two weeks and hold services in our language," James said. "It was great for the family to be connected to the culture and to meet each other."

Dinker became the go-to person for Christian Gujarati immigrants who needed help with finding jobs, cars and places to live, James said. Dinker eventually went back to school, studying at Liberty University in an online seminary program to receive his theology degree.

While helping their parents run the Edgewood, all four children were deeply immersed in activities in Bordentown as they grew up. Tomasi and Anita sang in the church choir and taught Sunday School. Both were involved with school activities like sports, choir, theater and yearbook staff. Alkesh took to the wrestling mats for Bordentown Regional High School and was also involved with the high school's theater program. James sang in the choir and in the Bordentown youth soccer program. Today, James serves on the Board of the Bordentown Township Economic Development Authority.

The old Edgewood Motel is gone, replaced with a three-story branded "chain" property, but the Taylor family is running the new hotel with the same family-centered philosophy that served them well in the past.

Policies, procedures and focus has become more guest experience-oriented since the new building opened, James said. The staff of 15 is also bigger than the Edgewood's. They decided to redevelop the site in 2002 and, after a market study, settled on Holiday Inn Express.

"It was the best fit with our community in terms of product quality, affordability and guest satisfaction," James said.

Alkesh, an engineer, helped the family with design and engineering for the new property and pitched in again to provide quality assurance during the construction phase. He worked with the township for approval, as well as with planners and civil engineers. He also had to navigate NJDEP approval because of the hotel's proximity to wetlands. He currently works as the hotel's building systems and energy manager, working to operate an energy-efficient hotel through lighting and other means.

James, a partner and consultant at Oak Forest Private Equity in Conshohocken, Pennsylvania, helped oversee financing, approvals, contracts, construction and project management and other areas of the project. Tomasi and Anita have been deeply involved with post-construction activities, including operations, staffing and ensuring the business is run in an optimal manner. Tomasi is an associate professor at Towson University, and Anita is a biologist who used to work for the state. Currently, she helps Dinker with the accounting side of the business.

"On some days, you will see all of [us] there, which makes my parents happy when all four of us are there doing various things at the hotel to ensure its success," Tomasi said. "Just like old times, but in a different building on the same property."

When it came time to put on the finishing touches, the entire family came together to assemble and install furniture, hang pictures and decorate. They even carried mattresses and box springs to the upper floors while waiting for the elevators to be finished.

"We actually did hire a crew, but quickly realized you have to get involved, be willing to get your hands dirty and do some heavy lifting if you want to get a job of this magnitude completed in a timely manner," James said.

With his father nodding in agreement, James said, "Our goal is to continue our legacy of being known as a family-friendly establishment in which we cater to everyone's needs while providing a nice, hospitable environment." James hopes people will see the hotel as a place to "celebrate events, hold business meetings and to just be a destination for the town."

The family realized they needed an experienced manager for such a large property and an extensive search resulted in Elizabeth Farrands taking the helm as general manager. Farrands has managed other Intercontinental Hotel Group (corporate owner of Holiday Inn Express) properties and brings a unique insight to the family.

"Elizabeth comes to us with a lot of experience," Stella said. "She's worked previously at Holiday Inn Express properties and other large hotels. As a family in ownership, this is our first branded hotel so to have experience like Elizabeth's is very helpful."

There is still room for new opportunities for the family on the land that means so much to them. The family has a liquor license and township approval for a restaurant pad in front of the hotel, and they are actively looking for the right partner.

James expects the family and the hotel to be "here for the long-run."

"Although we are a branded hotel with a large franchise chain, we are still a small family-owned and operated business with humble beginnings," Tomasi said. "The name of our company, SAAJ, LLC, stands for the first name initials of all four siblings: Stella, Alkesh, Anita, and James."
Business
,
Today
Holiday Inn Express
Edgewood Motel
Dinker Taylor
Martha Taylor
Gujarati
Gujarati Christian Fellowship of Philadelphia