City election set for May 9

May 03, 2017 06:11AM ● Published by Community News Service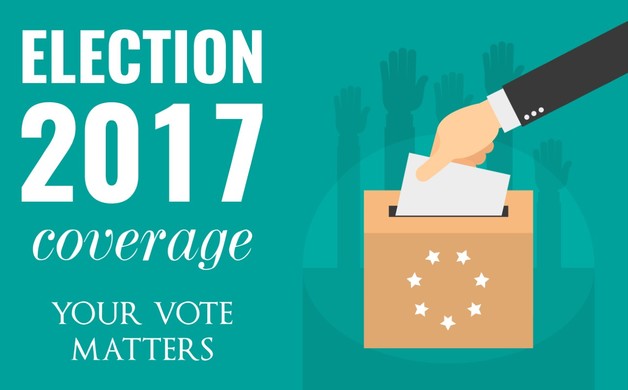 The voting booths are nearly open for Bordentown City residents. The most recent Bordentown City election, in 2013, saw three candidates—James E. Lynch, Jr., Joseph Malone and Zigmont Targonski—running unopposed for three city commissioner seats.  This year, five candidates are running for the same three seats, and only Lynch has returned to the race. 

He is joined by John Brodowski, Edward P. Foley IV, William Mercantini and Joe Myers. Both Malone, the current mayor of Bordentown City, and Targonski are not running for reelection. The Bordentown Current posed a series of questions to each candidate last month.

Brodowski, 34, was born and raised in Bordentown. He graduated from the high school in 2001 and attended Muhlenberg College, where he graduated in 2005 with degrees in international studies and business administration. He moved away for a few years, and came back to the city four years ago. He currently works for McMaster-Carr Supply as an operations strategist. He has never run for or held any other elected office.

Foley, 25, has lived in Bordentown all his life. He attended Notre Dame High School and then graduated from Saint Joseph's University, where he majored in history and economics and minored in ancient studies. He works full-time with the State Division of Pensions and Benefits and part-time with New Jersey Manufacturers. He has never run for or held public office before, but he served several terms on the University State Senate in college.

Lynch is a 61-year-old lifelong Bordentown resident. He has served on the city commission since 1989 and was a school board member from 1983-85. He attended the Bordentown Military Institute from 1970 until its closure in 1972 and then went on to graduate from The Hun School. Lynch attended Merrimack College for one year before returning home to work at Mercantini Chevrolet, which his family owned. He currently works as a new car sales manager at Lucas Chevrolet in Lumberton. He has been married to his wife, Judith, for 38 years and has a daughter, Siobhan Tara, son-in-law, Chuck, and grandson, Maverick James Lloyd.

Mercantini, 55, has lived in Bordentown his whole life. He is the current school board president and was elected in 2014. He graduated from Bordentown Regional High School in 1979 and earned a degree in business and accounting from Rider University, as well as a master's in management and leadership from Thomas Edison State University. Mercantini is a Fiscal Manager with the State of New Jersey, managing a significant budget for a state institution and supervising a staff of 18. He and his wife, Carol, have two children, William Jr. and Francis, a daughter-in-law, Megan, and two grandchildren, Eva Marie and Leo.

Myers is 40 years old and has lived in Bordentown since 2005. He graduated from Holy Cross High School in 1994 and graduated from Trenton State College with a degree in political science in 1998. He also received two master's degrees in political science and government from the University of Pennsylvania. Myers is the chief operating officer for a private nonprofit in Camden City focusing on community and economic development. He oversees a staff of 14 with an organizational budget of around $4 million. He and his wife Lauren have two children, Caitlin and Gus.

Bordentown Current: What do you think are the top issues facing Bordentown City residents, and how do you plan to address them?

Brodowski: Maintaining our quality of life, developing our business district, improving public spaces, protecting our local environment, preventing higher property taxes, engaging our youth, being open and inclusive to our diverse community and supporting our many committees and volunteer groups are just some of the pressing issues.

The keys to addressing these varied issues are communication, information sharing, and transparency. Residents and business owners often feel uninformed about the actions and activities in the city. Many residents have been prevented from becoming engaged, or stopped being engaged because they felt their voices weren't heard and ideas and opinions were not valued. 

I look forward to hearing from and working with city residents, and encourage everyone to share their energy with us to allow the city to meets its full potential. Many residents are ready to get more involved. This starts with organizing and presenting information in a user-friendly and accessible format. An updated website will go a long way to opening a dialogue with residents who may not have been active before.

Foley: I feel that there are several issues that the city is facing including but not limited to: affordability, the serious and ever-growing drug epidemic, the relationship between our businesses and city government, our relationship with surrounding communities, serious environmental concerns, absentee landlordism, and low youth participation. I would address these problems (or any problems) by first prioritizing each issue based on its impact to public safety and then the budget; second I would engage in open dialogue with the public to gage their input. 

If elected I would work for the people, not vice versa. Then in the collaboration of my fellow commissioners we would develop a plan and coordinate resources accordingly. This allows for an orderly and open process and ensures that we maintain sound stewardship of taxpayer money.

Lynch: A city of our size is under constant stress with budgetary issues. When we lost the Ocean Spray ratable, we had to be very proactive to replace that lost revenue. We just signed a redevelopment agreement with the new hotel on Route 206 that will basically increase our revenue on that property from $22,000 to close to $126,000. That is a significant windfall for our city because we paid attention to our options. 

We have increased revenue on our water tower from cell phone companies to stabilize our local property tax. We are currently looking to relocate our court to Fieldsboro with a new shared service agreement. These are just a few. Our downtown business will be given a high priority to expand and flourish in the next four years. For instance, I started the Street of Dreams car show five years ago to enhance traffic.

Mercantini: Keeping the property tax rate reasonable while improving the city's infrastructure and quality of life though strict budget management. When it comes to tax dollars, it essential that public funds are used effectively and efficiently with the highest regard for public transparency. Smart economic development that keeps all the charm the city has to offer while using our many resources to help Bordentown realize its full potential. 

A key goal will be to change the current course of opiate abuse by creating an effective community-based substance abuse response program. To maintain and increase property values, negligent absentee landlords must be held accountable for proper property management. To achieve this, it is crucial that a permanent Housing Authority be formed. 
We must work continuously to sustain the environment and provide greater access to open spaces. Address the needs of our children and young adults by fostering educational and occupational opportunities.

Myers: While Bordentown is filled with a rich tradition and history, we always need look for improvement. Everyone loves Farnsworth Avenue so it is important to engage the Downtown Bordentown Association. As they grow, the city grows. When a municipality has an aging infrastructure, it is important to create, update, and share a comprehensive capital infrastructure plan that holistically looks at its underground utilities. 

It is a lot cheaper to be proactive with capital upgrades as opposed to being reactive with emergency repairs, especially with clean drinking water. The city has a few highly visible gateways that require attention, and one idea is to work with the local schools and arts community to design new attractive gateways. Finally, every parent wants clean and safe parks for their kids. Over the next few years, if the city is to attract and keep families, then we need to invest in our parks.

Bordentown Current: What do you value most in a government official?

Brodowski: Honesty and integrity. Without those vital traits, you cannot trust an elected official. You must know that the official is doing what's right for the greater good of the community. This means standing by your word, proving your word through action, and by doing the right thing—especially when no one is looking. This is why I am in favor of thorough transparency, and open communication. Government officials must work for every person in their community.

Foley: I value honesty and integrity most in a government official, closely followed by openness. If government officials are not honest and hold themselves with integrity, then they lose the public trust and our whole system fails. Just look at Washington, where for decades party politics (collectively) have overshadowed the needs of the people. Leaders in any organization need to say what they mean and mean what they say.

Lynch: The most I value in my years in office are the commissioner I have served with, all who have helped me understand the importance of being an elected official and the lives you affect with your day-to-day decisions. It's important to understand and not lose focus on why you're there in the first place. My decisions in local government affect the public in many ways, and I take that very seriously.

Mercantini: I have always been inspired by the words of President John F. Kennedy who encouraged others to think beyond helping themselves. That is why in a public official I value integrity, honesty and the ability to work with others. One should have a vision of the future but it is equally important to be good listener. Being fiscally responsible and a good keeper of the public trust must go hand in hand with these values.

Myers: Elected officials must demonstrate a track record of being a leader, setting a vision, and having the ability to execute on that vision. Everyone has ideas, but very few people have the ability to work with others and execute on those great ideas. In my opinion, that is leadership. I have displayed those necessary leadership skills during my 17-year professional career managing a multi million dollar nonprofit organization as well as volunteering in the community.


Bordentown Current: Why are you the right person to serve on the city commission?

Brodowski: This is a unique and special place, with a strong foundation of tradition and history. It's a place that I'm proud to call home. I look to build on the accomplishments and hard work of current and former government officials, employee and residents. Our diverse and engaged community is a strength that sets us apart. 

Despite all of the positives in this city, I also recognize that we can improve. The first step is inviting our entire community to become more involved, to let everyone know that I value their ideas, and appreciate their efforts.

Foley: I am the right person to serve on the City Commission because I am a problem solver who seeks methodical solutions outside the box. I do my best to be honest and follow up my words with actions. I am not afraid to stand up for what's right in the face of adversity. And I would always have the best interest of the city at heart because this place is our home.

Lynch: With four other good candidates running for office, it would be my responsibility to mentor two new commissioners and help guide them. Change is a good thing, but knowledge, experience, honesty and integrity makes sense, as well. I am proud of my tenure in office, the residents that I've met and grown attached to, the staff volunteers and all of the professionals who look out for us on a daily basis. 

When someone comments what a wonderful place Bordentown is to work and raise a family, and how great our city is, ask yourself, "How did that happen?"

Mercantini: Bordentown has given me so much and I feel an obligation to try to give back as best I can. While proud of our past, I have great faith that by employing innovative approaches to government, Bordentown can realize its potential. I believe I can be of service by marrying my love of our city with my extensive experience in government management and administration to help Bordentown to maintain its charm while moving forward.

Myers: For the past 16 years, I worked in a collaborative work environment with community groups, public sector agencies, and the private sector. I have worked on resident driven neighborhood plans and participated in the implementation of priority projects within those plans. I have balanced budgets, worked with accountants and auditors to obtain clean financial statements, and successfully managed grant funds from local, county, state, and federal agencies to rebuild roads, underground utilities, and parks.
Today
,
Community
,
News
Bordentown City elections
John Brodowski
Edward Foley
James Lynch
Joe Myers