'Let's talk about' mental illness

May 03, 2017 06:21AM ● Published by Community News Service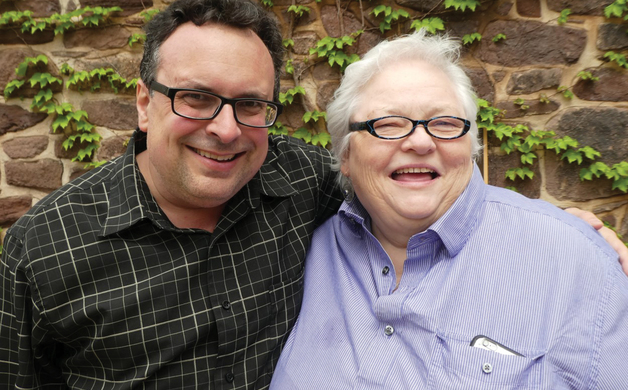 David White with "Fixed" director Maureen Heffernan during a rehearsal at the Mill Hill Playhouse last month. (Photo by Dan Aubrey.)
By Scott Morgan

David Lee White is generally happy. And achingly familiar with sad.

That might sound like the life of a typical playwright, but it goes a lot deeper than that. White, born in St. Louis and now living in Bordentown, gets a rare privilege for a creative professional—he makes his entire living in theatrical circles. And he's extremely grateful. But he knows what's up on the unhappy side of life. He's been down, and he doesn't pretend it's easy to get back up.

That doesn't mean life can't be funny. White says that if his work has an overarching genre, it's dark comedy. Something with a sick sense of humor that's funny precisely because it's not funny, but without the meanness typically associated with dark comedy. White wants you to laugh knowingly because you've been through something and understand what it means to survive, not because you take pleasure in the misfortunes of other people.

Being so tuned into this dynamic is probably why White's plays resonate so strongly with audiences and critics. His newest play, Fixed, will premiere this month at the Passage Theatre in Trenton. The play will run from May 4 to 21. Directed by Maureen Heffernan, Fixed was originally commissioned by the NJPAC Stage Exchange, a program of the New Jersey Performing Arts Center.

Fixed follows three friends at Trenton Central High School in 2000: Ronnie, Valerie and Darryl. Ronnie tries to kill herself, and neither Valerie nor Darryl really know what to do about their friend's budding mental illness. The friends lose touch with Ronnie, like people often do when someone becomes increasingly mentally ill, White says. Seventeen years later, they find that Ronnie is homeless, seriously mentally ill, and angry at her former friends.

If this sounds like a playwright's convention, know that this very situation is a piece of White's life.

"The most autobiographical part of Fixed is, I had a college friend who was seriously mentally ill," White says. "It was … awkward. We stopped being friends."

Twenty-odd years later, White, now 48, started wondering what had become of his old friend. It turned out that her story had become a viral one online. She was living in a decrepit house with far too many cats.

"[Her story] was actually worse than in the play," he says. "It would have been incredible if I tried to put it in the play."

To be clear, White doesn't mean incredible in the "really cool" sense of the word. He means it in the "absolutely contrived and not believable" sense of the word. He did do some digging and reconnected with his old friend, something he describes as "meaningful in a way I can't quite put my finger on." The two still correspond the old-fashioned way—through actual written letters in the mail.

Told through flashbacks, Fixed confronts the anger and guilt and uncertainty that comes with having a mentally ill person in your life, White says. An aspect of the play is admittedly about mental health advocacy, something White has a passion for. He sees the importance of being the voice of the voiceless; talking to and about, as the late Peter Jennings once said, not the movers and shakers, but the moved and the shaken.

The thing about mental health, White says, is that its still such a taboo. People of all kinds, from the down-and-out to "rich, white oligarchs" suffer from depression, he says, but it's still considered something to be ashamed of, something to hide, something that makes us look weak.

"Let's talk about it," White says.

Back in 2009, White's play, Blood: A Comedy premiered at the Passage and was also produced in 2011 by Dreamcatcher Rep in Summit.

Despite its bloody name, the play was not a gore-a-thon black comedy. The term refers to familial relations. New York Times critic Anita Gates described the play as a clever story that "deals with the onset of Alzheimer's disease, a soap-opera-style family shocker, and reflections on the existence of God." It's full of zingers and animosity, and the weight of dealing with a life in the ravages of a mental deterioration, an increasingly common theme White explores.

Before Blood, there was Slippery As Sin, a purposely silly murder mystery featuring, as Bob Rendell of Talkin' Broadway put it, "palpable jolts of early film classics, such as those involving a cocaine-addicted English detective and his biographer, haunted houses, charlatans, vampires and other things that go bump in the night." And, really, it was all about politics.
In late 2015, he wrote (and saw produced) Panther Hollow, which indie theatre now, stylized in all lowercase, called "A comedy about clinical depression. No, really."

Perhaps unsurprisingly, White has coped with his own depression issues. To a degree, he says, he wouldn't be able to discuss mental illness if he wasn't so familiar with it. But just because it's a serious thing, just because it needs to be de-scandalized, doesn't mean you can't make talking about it entertaining, which is why White writes about issues like depression, anger, guilt and distrust in engaging, sometimes bitterly funny ways.

The reception to his plays, he says, have always been positive. People seem to recognize what he's going for, and they appreciate that he's bringing up realities that people don't always feel comfortable talking about. To White, "the voiceless" is not just the poor—though, he says, poor people are often the most damaged by mental illness—it's anyone who doesn't feel comfortable admitting a problem.

"I want everybody's stories to be told," he says.

White is also familiar with uncomfortable-and-I-wish-it-would-all-just-go-away topics like racism. He grew up in St. Louis and his grandparents lived in Spanish Lake, which has developed into a genuinely boiling-over hotbed of racism and extreme politics. The roots go back to the Pruitt-Igoe apartments constructed in the '60's (and torn down in just a few years because the complex turned into a real-life horror show), a reaction to St. Louis' "white flight" that drove African Americans into the city center and white city residents to the suburbs, including Spanish Lake.

Incidentally, you can read White's 10-minute play, "Spanish Lake," on his website, davidleewhite.net.

White was drawn to the stage from the beginning and attended the University of Missouri-Kansas City for his bachelor's in theater. He then got his master of fine arts from the University of Pittsburgh, where he met his wife, Allison Trimarco, a Jersey girl attending Carnegie-Mellon University, on a blind date.

After Pittsburgh, Trimarco moved back to New Jersey, and in 2002 founded Consulting for Nonprofits (now called Creative Capacity) to "collaborate with nonprofit organizations of all types to increase their management capacity," according to the company's website. White moved to Chicago to be an actor and director, at least until he realized he was so very much not a theater director. Allison moved out to Chicago, where, he says, they ended up "spinning our wheels" in the city's theater scene. So they moved east and settled in Bordentown.

White wanted to get into Trenton's theater scene and started with its most famous outfit, Passage Theatre. He volunteered, he says, until he hung around long enough to be offered paid work. He became an assistant art director under June Ballinger, who eventually challenged White to write a play for Passage. The script he came back with was Blood: A Comedy.

White eventually left the safety of Passage Theatre's steady paychecks as its full-time associate artistic director, a position he served in form 2003 to 2016, to do his own thing. He currently freelances.

It's something most people can't understand, he says. But he never felt like he was driving his own car while he was working at Passage. He has nothing but nice things to say about the place—he just felt the need to guide his own path and he is gainfully part of "the gig economy" that might not always make for a great living but certainly does make for a pretty cool life.

The Whites have a 6-year-old son, Nick, who White describes as "very outdoorsy." Translation: probably not crazy enough to find the carnival-style life of the gig economy appealing. At least not in theater. But that's just fine, White says. The boy will find his own story.

Allison still runs Creative Capacity. White also teaches theater at Drexel University as an adjunct professor, does occasional theater work at McCarter Theatre in Princeton and volunteers with kids at Trenton High. These days, long removed from wanting to be a director and only occasionally interested in acting, White says he enjoys the company of other writers. They seem to understand him internally—except for the fact that he genuinely loves the rewriting process, which most writers dread.

"I know that's strange," he says. "but I love being faced with a writing problem and then having to write my way out of it on a tight deadline."

Fixed had many versions before the script was finalized, White said. He first did a reading at the New Jersey performing Arts Center over a year ago. Last summer, he worked with Yendor Productions to do another reading in Newark. Since then, he's been working with Heffernan on and off. The play had three different casts and three different directors, and White worked with Janet Haag from NAMI to make sure certain mental health terms were accurate.

"I did so much rewriting that I'm not even sure how I'd determine how many drafts I did," he said. "It was one big draft that kept mutating. I'm not sure that any of the material from the beginning still remains in the end product."

If there's anything resembling a life lesson to learn from, it's probably that acting taught him how to cope with rejection, he says. And that's key to batting a thousand by getting up every day.

"The world doesn't end if people don't like your work," he says. "It really doesn't."
Fixed
will run May 4-21 at the Passage Theatre, 16 E. Hanover St., Trenton. Tickets are $33 and $38 for Saturday night shows. Student, senior and group tickets are available for select dates. For more information, visit 
passagetheare.org
.
Today
,
Arts+Entertainment
David Lee White
Passage Theatre
Fixed