BRHS sprinter Genesis Walker one of area's fastest

May 03, 2017 06:53AM ● Published by Community News Service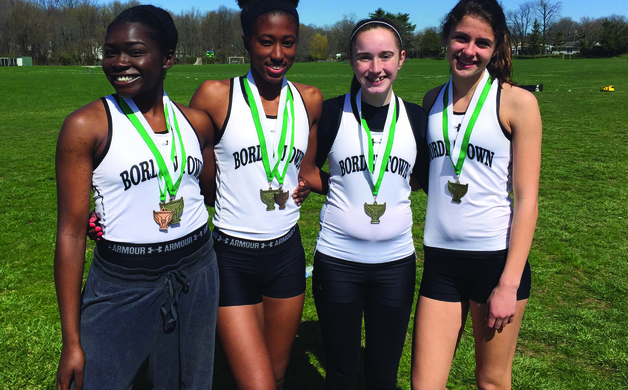 Genesis Walker, second from left, with her Scotties' teammates.
By Rich Fisher

Genesis Walker is a joy to talk with. She laughs, she's upbeat, she's funny and just plain pleasant. But as a little kid, she was ruthless.

"I would always challenge my neighbors to race me to see who's faster, to play tag and to see who could reach the home base the quickest," she said. "I always won. It kind of became 'Who could beat Genesis?' in the neighborhood, and then people would start to get mad because I wouldn't let anyone win. I wouldn't give up. And they would get so frustrated and they were like 'We're supposed to be your friends! what are you doing?'"

Some time has elapsed since then. We're happy to report Walker still maintained her friendships despite her dominance. Just as important, she maintained and improved that great speed and in her junior year at Bordentown as one of Central Jersey's top sprinters.

Dave Misselhorn took over the Scotties' track and field program last year and was immediately impressed by Walker.

"I saw it in her right away that she's someone that works hard," Misselhorn said. "Her big thing is to stay healthy. We ran into a speed bump with her hamstring earlier this season, but luckily she did it right before spring break so she had time to rest it. I was told by our trainer it was one of her smaller hamstrings and not the main hamstring."

It's going to take more than a little hamstring to slow her down.

"She's battled," Misselhorn continued. "Like any other runner, she's battled shin splints and other things. But she's gold. One of the nicest kids you'd ever want to meet, and she'll work hard and work through pain. A lot of times you get the kids that are stars but they don't work. She works."

Her work paid off at the Central Jersey Group II meet as a sophomore, when Walker took sixth in the 100 meters in 13.07 and fifth in the 200 in 26.53. Both were good enough to advance her to the Group III states, where she finished 11th in both races with improved times of 12.77 and 26.49.

As a freshman, she just missed getting to states, finishing seventh in the 100 meters and 10th in the 200. Her first trip to the sectionals was quite the learning experience.

"I didn't understand the magnitude of where I was going," Walker said. "At first I was kind of like, 'OK, it's just another competition.' But once I was actually there, it felt like a wave of emotion, like 'Oh my gosh I want this so bad.' All of a sudden I immediately got nervous and was so anxious to run and see what I can get while I competed against these girls, the top in the state. I was so nervous."

So, obviously she was more relaxed as a sophomore.

"Not really, no," she said with a laugh. "It was still the same amount of nerves."

Walker is still making up for lost time when it comes to track. Her route to even trying the sport came with a field hockey stick in her hand.

A lifetime basketball player, her middle school basketball coaches suggested she go out for track; while her gym teacher—also the middle school field hockey coach—told her she should try field hockey in high school. Walker made the team as a freshman and, after watching her fly up and down the field, field hockey coach Julie Reisig told her to try out for track.

It wasn't all that easy, however. At first, despite her love of running, she wondered how she would hold up through all the workouts. When reminded that what she did also built up her body for other sports, the nerves went away and she gained confidence as practices went along.

But like many runners who don't come to track until high school, Walker discovered that just because she beat everybody on her block, she wasn't really a "good runner."

"It was definitely a crazy learning experience," she said. "I started out running a few meets and I started running with some of the seniors and older girls on the track team. We went to really big meets and were running crazy relays. I thought, 'I have to re-learn how to even run the right way, the proper form.' I was like 'What? I didn't know you needed to do all this to run.' I didn't really know how to run a relay or start different races, so I was definitely nervous and made a lot of mistakes, but it was great."

She stuck with it, however, and the results were obvious last year. When he took over the spring program, Misselhorn suggested that Walker might want to try winter track, but she could never imagine not playing basketball.

"She said no, but I'm actually kind of glad she does different things," the coach said. "Sometimes that repetitive nature isn't good. Like, if you play soccer all year long, professionals say you're out to get hurt more if you do one thing all year long. So she does field hockey, does basketball, does track and she's a standout in our (Burlington County Patriot) Division."

Walker is not the only girl Misselhorn has praise for. He is high on freshman Marissa Logiudice, who he calls a rising star, and junior Eliza Peterson, whom he feels is the most improved athlete in the program. He noted that both have the same hard work ethic as Walker.

"Marissa does (110) intermediate hurdles, she's running a 1:16," he said. "In the high jump, we only practiced it once and she jumped 4-10. With some work she's a 5-0, 5-2 jumper and that can get you to Meet of Champions. Do we have high hopes for her? Yeah, definitely."
Paterson ran the 400 in 75 seconds as a freshman and is down to 65 this year.

"If it comes to the 400 she thinks 'I can outwork your talent, you're not going to work hard, I'm gonna get you,' and she does," Misselhorn said. "She works hard. When we do drills she's the one I bring up and say 'Watch Eliza and see how she does the drills.' She's pretty meticulous about doing it right and knowing that in the long run it might get her better. She's not someone that has a lot of talent and that's not me putting her down, but me praising her for all the hard work she does to make herself good."

Speaking of the 400, Walker also does it even though it's not something she enjoys. But again, she gives it her best shot.

"She'll run a 64 or a 63, and she'll get better each time," Misselhorn said. "You'll ask some girls to do the four. They're sprinters and I know their ability is there to run a 65 and they run a 70. I'm like 'Are you kidding me, you didn't even try.' But Genesis always tries. I think she could do a lot more damage in the open four but she doesn't have that confidence."

Of all her events, the 200 is Walker's best right now. Part of that has to do with her starts, which need improvement. Thus, she has more time to overcome a slow start in the 200.

"I don't think she's as quick out of the blocks as she should be," Misselhorn said. "We're working on that. But if she takes the lead it's hard to hawk her down."

Walker feels her ability in the 200 is helped by her race strategy—which one has to think is sound considering she has a 4.0 GPA while taking all honors classes.

"I personally like the two because a lot of people think when you run the two you jog the turn and sprint the straightaway," she said. "But I actually sprint the whole way. It's an easy way to trick people, that's how you beat them. Some people jog and you just sprint."

It takes a lot more work to sprint, but that's something Walker never had trouble doing. Her goals this year are to beat her personal best times of 12.4 and 26.4; return to states and hopefully make the Meet of Champions.

As for her name, her dad wanted to name her Brooklyn since that's where he's from. That got squashed quickly by mom, and the family's pastor suggested giving her a biblical name. Since she was the Walkers' first child, she was named Genesis, which is the first book in the Christian Old Testament and also stands for "Beginning."

And when it comes to her exploits in track, Walker and Misselhorn hope that last year was just the beginning of great things for the sprinter.
Sports
,
Today
,
Schools
Genesis Walker
Bordentown track and field