Scotties keeper anchors young soccer squad

Sep 26, 2017 08:47AM ● Published by Samantha Sciarrotta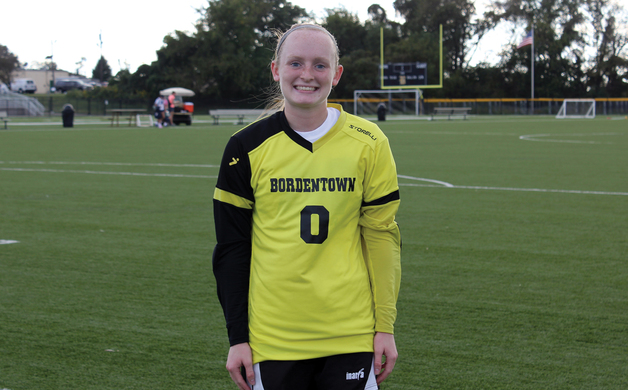 By Rich Fisher

Chloe Wieczkowski made her mom work extra hard to get dirt stains out of her soccer uniform when she was a kid, but that could result in a clean path to playing in college if the Bordentown High School senior can find the right fit.


Wieczkowski is in her second season as the starting goalkeeper for the varsity girls' soccer team and may end up playing in college depending on what the academic situation looks like at her prospective schools. With a weighted GPA over 4.0 she has some nice choices even if soccer does not stay in the picture, but it would be tough to give up a sport she literally dove into during grade school.


"I started out as a forward, but one day they put me back in goal and I just loved it so I kept playing there," she said. "I remember the game, it was raining, so it's really muddy and I was just diving all over. My coach was like 'Wow, you really like diving in there and getting your shirt all dirty.' That was in third grade and I would say around fourth grade I started getting serious about being a goalie."


Wieczkowski played in the Bordentown rec league before moving to travel with Northern Burlington, the Hibernians in Hamilton and, currently, Next Level Soccer Academy. When she got to high school, Scotties' coach Dominic Castaldo was loaded with keepers and had the luxury of giving Wieczkowski some JV time to ease her in.


"I knew if I was on varsity I wouldn't get that much playing time," she said. "Being on JV it was good playing with my friends just to get used to playing at the high school level, and I still got to practice sometimes with the varsity, so I got the experience I needed there."


Bordentown finished 9-10 that year, and Wieczkowski recorded three shutouts and allowed just nine total goals in the Scotties' other six victories.


"I was pretty nervous going into the season," she said. "I was going from JV the year before right into starting varsity so it was a bit of a jump. But as the games went by I started getting more comfortable with the team, and it was good. The coaches really helped me out a lot, it was a good experience for me."


Wieczkowski worked over the summer with ex-boys' coach Mike Brennan, a former goalie who was training the boys' keepers but also welcomed Wieczkowski's participation. Michelle Quigley also works with her extensively, and Wieczkowski credits both for making her better.


"She's improved every year, and the biggest thing is the way she goes about everything and her work ethic," Castaldo said. "She spends a lot of time getting better. She wants to go and get help. She's very in tune and very open to help. She worked with [Brennan] a few days a week, and you can tell how it helped by the way she came in this year."


The coach felt Wieczkowski was outstanding despite the Scotties' 1-3 start and the fact she allowed five goals in two of the losses. She also had 44 saves in the four games as a young team tried to find its footing.


"She's been keeping us at least a little solid because of her play," Castaldo said. "Until these kids get their feet wet a little bit—they're a little green—we need her. She anchors everything in the back and she's a good player. She saved our butt a couple times in the first few games, where things could have been 10 times worse than they were. She came up really big and that's what you want to see."


As the anchor, Wieczkowski is called on to organize her defense and keep everything solidified in the back. It's a skill she has picked up over the years.


"It's a lot, and you definitely have to work on it," she said. "The more you play, the more you see, so you have to tell them 'OK, next time come here; last time, you didn't come through.' So you have to take a step sometimes and just look around you, and as a game goes on you start to realize where to put everyone."


Her capacity to do all that comes from an innate ability to see the field from all angles.


"You have to see what's going on with every player, how you can help them play better and either get forward or come back," Wieczkowski said. "It's really important to have knowledge about all positions of the game."


If Wieczkowski has one weakness, it is her height, or lack thereof. At 5-foot-4, she admitted that she is sometimes susceptible to having a high chip go over her head. But she makes herself a solid goalie by working on all the other aspects that she can control.


"I feel like I'm pretty quick, so I really work on footwork a lot," she said. "I think diving I can usually get there. I work on my extension dives in the air. Sometimes they'll shoot it really far and I can just stretch over there. My one goalie coach calls me stretch."


Her hard work has paid off in making her one of the area's top keepers. Castaldo feels one of Wieczkowski's greatest attributes is in one-v-one situations. He remembered one game this season where Wieczkowski stopped two breakaways.


"A lot of times those situations are 50-50," Wieczkowski said. "But if you can see that maybe she takes a touch too wide, I can come out and grab it. Or, if I see her and she thinks she's going to run by me, I can anticipate what she's going to do. I use my instincts to see where she's going to go."


Wieczkowski has instinctively put her academics before soccer over the years, knowing that despite how good she is in uniform, it is what she does off the field that maps out her future. She is also  in Bordentown's Teens on Fire club, in which the students meet with middle school students and discuss high school and problems that arise. She is also in the Spanish, math and Key clubs.


Wieczkowski is following the path that Castaldo sets for all his players, reminding them that soccer will likely just last four more years whereas education lasts a lifetime. Wieczkowski is looking at Division III programs Susquehanna (Pennsylvania), Juniata (Pennsylvania) and Washington (Maryland) where soccer is concerned. If none of those have what she seeks academically, she will likely turn to the University of Delaware and forego life on the pitch.


"Dom always says your school comes before soccer," Wieczkowski said. "So that's kind of been the mindset. Always go for school first, because that's where you're gonna get your job for the future."


If she does go for school and soccer, one thing is certain. She better bring along some hard-core laundry detergent.
Sports
,
Today
,
Schools
Chloe Wieczkowski
Bordentown soccer