Temple B'nai Abraham celebrate a century

Nov 01, 2017 11:46AM ● Published by Community News Service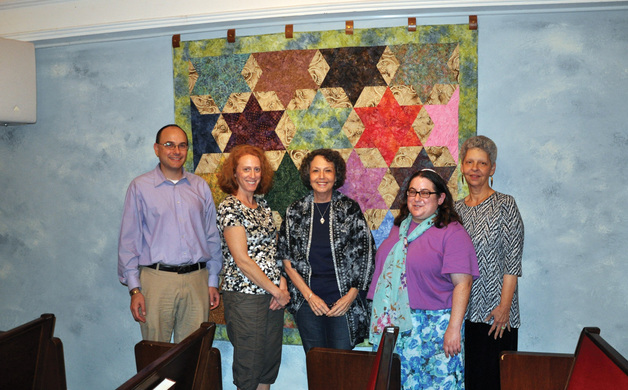 By Michele Alperin
A hundred years ago, Bordentown was a marketplace where farmers brought their produce, did their banking, and shopped, and many of the business owners were Jewish—the Weissmans, the Goldmans, the Reichmans—their presence reaching back to the early 19th century.


By 1917 the Jewish community had reached a critical mass and Hyman Goldman, George Groveman, a Mr. Josephson, and Max Kessler formed the Bordentown Hebrew Association, now Temple B'nai Abraham, which purchased a double house at 58-60 Crosswicks Street, one side for the synagogue and the other for the rabbi.


Temple B'nai Abraham is celebrating its 100th anniversary this year. In honor of the anniversary, the community released a cookbook and hosted a celebration in October.


The temple has had 55 to 60 families "since 1984 and 50 years before," Affrime says. She adds, nodding to the tiny sanctuary, that "while we could handle 10 more families, we couldn't handle 20 more." The religious school has 23 students ages K to 8 plus "five indispensable teenagers who help teach," says Brian Epstein, a Yardville resident and the synagogue's current president.

Bloom, who is also a board member of the Bordentown Library Association, explains that initially laypeople led most of the services. In the 1950s, they brought in itinerant or student rabbis, first from the Orthodox, then the Conservative, and finally the Reconstructionist movements. Early on the students would lead services once a month, then for a period students, still part time, lived in the house next door.


In 2000, the synagogue decided to affiliate with the Reconstructionist Movement. The current rabbi, Julie Pfau, has been with the congregation part-time for 10 years, starting while she was still a student at the Reconstructionist Rabbinical College.


Several congregants spoke to the Current about why they had joined B'nai Abraham and what the synagogue means to them.


Affrime moved to the area originally for work and "to get out of Philadelphia." Having attended synagogue weekly as a child, even though her parents did not, Affrime says, "For me, the synagogue and Judaism is completely wrapped up in my identity; it is who I am and who I want to be, and this group of people is who I want to be with."


Today her son, Josh, who lives in Hamilton and is married to a Catholic, is also a member, and her granddaughter, Evelyn, 6, is a religious school student.


Epstein moved to Hamilton because it was accessible to work in New York, Philadelphia, and Wilmington, and when he got married in 2003, to a Catholic, he recalls thinking, "I would really like to learn more about my faith and join a synagogue."


The search for a synagogue where interfaith families are welcome is common to many B'nai Abraham members as is the welcome they received. "When we came here, the community drew us in," says Epstein. "It's the community, the caring nature of the people who are here, people who I can lean on when I'm having trouble in life and people who can lean on me. The open and accepting nature of people here just warms your heart and makes you want to be part of something."


"It was personal," continues Epstein, who joined in 2004. "At other synagogues and churches you sit there and don't want to look at the person next to you; this synagogue is in your face—'Hey, how you doing? Where do you live? Can we set up a playdate?"


When Bloom was 26, she was working in Trenton as a lawyer with the Office of Administrative Law, and lived in Mercerville. A Bordentown friend, also her boss, drew her to the town, and one day he told her about a little house to rent, and she moved in three weeks later. In 1984 she bought a house.


Bloom says, "The synagogue has had a huge impact on my entire life—a major impact and a positive impact." For one thing, synagogue members introduced her to her husband.
For her, one very positive aspect of the synagogue is the integration of the children. "The children are very comfortable on the bima [the pulpit]—they are excited to get up there," she says.


The board's educational chair, Liz Mitchell, lives in Bordentown Township and teaches fourth and fifth grade language arts at McFarland Intermediate. She moved to Bordentown for a teaching job at Clara Barton Elementary School and met her husband, Bryan Mitchell, also a teacher, and Catholic.


Mitchell says the synagogue is particularly important for her because she doesn't have family close by. "Really the only identity I have with being Jewish is through the synagogue and the few friends I have who are Jewish." But she also emphasizes that the synagogue's openness to intermarriage drew her in, "because not every synagogue is."


Mike Rosen, currently the treasurer, moved to Bordentown City in 1988 and joined the synagogue about 1990 when his daughter was 5 so that she could go to Sunday school. Before that, he says, "I hadn't been overly active anywhere."


Having been on the board for about 25 years, Rosen says he has become a lot more invested in Judaism. "Through the temple I became part of a community and that's been the most important part of it, even though I've been more involved religiously as well."


Openness to everyone is an important synagogue value. "We have always been very welcoming and always tried to make everyone as comfortable as possible. For decades we have really made the effort," Bloom says, noting that during a celebration a non-Jewish spouse is welcome on the bimah, not to say the blessing over the Torah, but to be present, recite a poem, or introduce a Psalm.


To make sure that older and disabled members can participate as much as possible in a building whose sanctuary is up a set of stairs, Affrime's husband, Steve, wrote a successful grant for a chair lift to the Jewish Federation of Southern New Jersey.


Congregants also value B'nai Abrahams egalitarianism. For Mitchell, that meant wearing a tallit (prayer shawl) and kippah (head covering) for the first time and having her first aliyah ever to say the blessing over the Torah, as well as a prayer book that includes the foremothers as well as the forefathers.


The synagogue has been active in interfaith and community events. It collects books for children and food for homeless people; B'nai Abraham congregants also help out the Crosswicks Friends Meeting, whose congregants prepare meals for hotel residents, by delivering the warm meals.


In the late 1980s and early 1990s B'nai Abraham sponsored the resettlement of a Soviet Jewish family, paying any expenses beyond what they were entitled to as refugees for the first couple of years and coordinating available resources. Doctors in town would treat them for free. Yelena Masoti, the wife, is still a synagogue member. "For a tiny synagogue this was a huge endeavor in the late 80s and early 90s," Bloom says.


The temple was also one of 12 buildings included in the December 2006 Bordentown Historical Society Open House Holiday Tour, and the idea for an upcoming social justice project was borrowed from the broader community. Through the Prayer Quilt Ministry a group from B'nai Abraham will create a quilt together, saying a prayer for the person who will receive the quilt as each block is tied off. Affrime, who was given such a quilt recalls, "It was so incredibly comforting."


Another characteristic of the synagogue that congregants value is its egalitarianism. For Mitchell, that meant wearing a tallit and kippah and having her first aliyah ever, as well as a prayer book that includes the foremothers as well as the forefathers. She also values the fact that prayers bring in not just the people of Israel but the whole world, for example, through the addition of al kol yoshvei tevel, "on all who dwell in the world," to the Kaddish prayer.


The synagogue also has a full religious school program under teacher and education director Jill Ratzan, who Affrime describes as "incredible, fabulous with kids" and "she has developed a wonderful curriculum—the kids want to be here."


The teens' involvement in teaching younger students at the Hebrew school, Epstein says, "speaks in general to how our synagogue is all volunteer based."


Talking about how B'nai Abraham grew into its congregational identity, Affrime says, "It happened over time. We just became who we were. People just felt comfortable. You know when you go into a synagogue and feel comfortable, and you know when you go into a synagogue and don't feel comfortable."


Reflecting on her own experience at B'nai Abraham, Rabbi Pfau wrote in an email, "I strive to nurture and cultivate a community that is a safe space for people across the lifespan to engage with Judaism from wherever they are at—to experiment, learn, and grow without judgment or fear of mistakes. It is a blessing and an honor to be a part of the lives of my congregants, to accompany and support them on their journeys, and to witness their kindness and generosity of spirit as they do service in the Bordentown community and beyond."


The Temple B'nai Abraham cookbook is available from Bordentown city resident Randye Bloom, who is a past president of both the temple and the sisterhood, at (609) 298-6485, for $15.
Today
,
Community
Temple B'nai Abraham