Rescue cat gets own book, churches to hold bazaars and more

Nov 01, 2017 12:05PM ● Published by Community News Service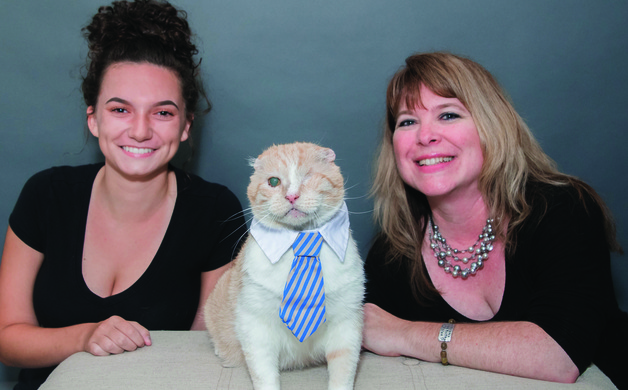 Author Barbara Ann Gareis recently published her fourth book and first children's picture book, Bruiser: A True Story About a Special Cat.


Illustrated by high school senior Skyler Bajek, the book depicts the author's cat, Bruiser, on the day of his rescue. Bruiser, a one-eyed cat, has gained a steady following of local fans and loving support from children and adults throughout the surrounding communities.


Bruiser is a story about a special cat that was alone and scared, bullied and neglected. It's also about a family who loved him and gave him another chance at life. The book is available on Amazon.com in soft cover format for $9.95 and Kindle for $.99.


Gareis is the author of two books and a memoir, as well as the blog Sharing Hope. She is also a motivational speaker who appears before women's groups, and she shares her story of Bruiser's rescue with children and adults at libraries, schools, pet stores, veterinary clinics and other venues for various organizations. Gareis, a Bordentown resident, has a business degree from Thomas Edison State College. For more information, visit 
sharinghope.net
, or find her on Twitter at 
@barbaragareis
 or Facebook at 
facebook.com/BarbaraGareis
.
Bruiser is a special cat who often visits the Columbus Central Veterinary Hospital. He can be found at bruisercat.com, as well as on Facebook at facebook.com/bruiserlovesyou. Visit Bruiser's website for more information, including a complete schedule of the 2017-2018 book tour. Bruiser attends most of the events with the Gareis and Bajek, and he paw-tographs the books. For more information or to schedule an appearance, email the author at author@barbaragareis.com.

Fall bazaar set for Nov. 18


The First Baptist Church of Bordentown will host a fall bazaar Saturday, Nov. 18 from 9 a.m. to 3 p.m. Tables and vendors will feature toys, games, holiday items and specialty items. Coffee and tea will be available starting at 10 a.m. Lunch will be served from 11:30 a.m. to 3 p.m. and includes homemade soups, sandwiches, hot dogs, beverages and desserts.
The church is located at Church and Prince streets. Use the side door on Church Street to enter. For more information and directions, visit 
bordentownbaptist.org
.
Township police seek K9 grant


Aftermath Services, a trauma cleaning and biohazard remediation company, is awarding a total of $15,000 in grants to five police departments and their existing K9 programs, and the Bordentown Township police department has applied for one.


The BTPD's K9 unit consisting of Mako (narcotics), Liberty (bloodhound), Zena (narcotics), Bak (explosives/patrol), Boston (patrol/narcotics) and Kiru (patrol/narcotics) could use these funds towards the construction of a new kennel. 


The top five departments with the most votes will be awarded grants in the following denominations: $5,000 (first place), $4,000 (second place), $3,000 (third place), $2,000 (fourth place) and $1,000 (fifth place).


Visit
aftermath.com/k9-grant
 to vote for the BTPD. Voters will have to select the department from a drop down box and input their name and email address. As of October, the BTPD was one of the top 10 vote-getters in the country. It is the only department in New Jersey in the running. Voting ends Nov. 7, 2017.
Two seniors named Commended Students


Bordentown Regional High School recently announced that Eliza Peterson and Reena Zang have been named Commended Students in the 2018 National Merit Scholarship Program. A letter of commendation from BRHS and the National Merit Scholarship Corporation, which conducts the program, was presented to both seniors. Approximately 34,000 Commended Students throughout the nation are recognized for their exceptional academic promise.

Trinity Church to hold bazaar


The Trinity United Methodist Church Christmas Bazaar is set for the weekend of Nov. 17. The bazaar has three sessions: Friday, Nov. 17 from 10 a.m. to 2 p.m., Saturday, Nov. 18 from 10 a.m. to 1:30 p.m. and 4 to 7:30 p.m. that same day. All sessions are at the church. The church is located at 339 Farnsworth Ave. in Bordentown City.


A number of goods will be available at the bazaar, including crafts, baked goods, homemade candy, gently used clothing and a collection of framed needlework.


In addition to the bazaar, a luncheon and dinner will also be held. The luncheon, set for Nov. 17, will run from 11 a.m. to 1:30 p.m. and features vegetable soup, sandwiches (egg salad, beef barbecue and chicken salad), dessert and beverages. Take out orders are also available. Large orders of soup are also available for purchase. Call (609) 298-3547 or (609) 298-1914 to purchase.


The following day, a snack bar will run from 11:30 to 1 p.m. followed by a pasta with meatballs dinner from 4:30 to 6:30 p.m. Tickets for the dinner are $10 for adults and $5 for children 5 to 12. Dinner take out orders are $11. For more information about the bazaar or to purchase dinner tickets, call (609) 298-5465. 


Concert set for Nov. 5


Grammy-nominated marimba and percussion artist Greg Giannascoli will perform works by Gershwin, Bernstein, Liszt and more in an afternoon of familiar favorites and virtuoso show pieces at a concert Nov. 5 at 3 p.m., sponsored by the Community Concert Association of Bordentown.


Giannascoli has won top prize at two international young artist competitions and performed throughout North America, Europe and Asia. Pianist-composer Alex Timofeev will accompany Giannascoli.


The performance will be held at Bordentown Regional Middle School, 50 Dunns Mill Rd., Bordentown. Tickets are $20 for adults and $5 for students. For more information, call (609) 298-5465.
Today
,
Community
,
News
Rescue cat
Holiday bazaar