Scotties' Bryant enjoying breakout sophomore year

Nov 01, 2017 12:20PM ● Published by Community News Service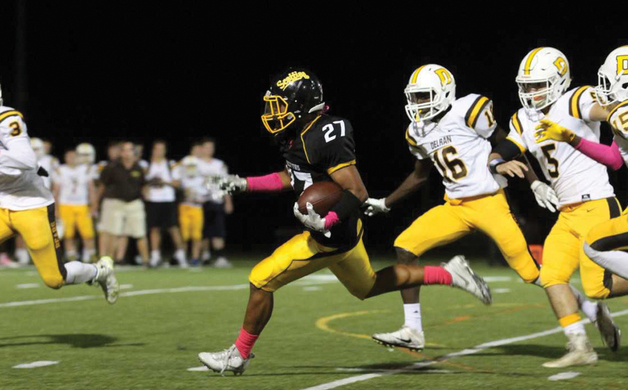 By Rich Fisher
Jayden Bryant is not just one of the biggest surprises in Burlington County football this fall. He's also one of the biggest surprises on his own team and in his own mind.


"I didn't expect to be doing this good," said the Bordentown High sophomore, who was fourth in the county in rushing with 665 yards after the Scotties' 3-2 start. "I didn't really set any goals at the beginning of the season because I wasn't really sure what I was going to get myself into. But, after the first game, I set my goals. I said I want to at least get a couple hundred-yard games and do the best I could do."


He rushed for 61 in a 42-7 loss to Holy Cross and busted out one week later with 150 yards in a 24-0 win over Lindenwold. Suddenly, a running back career was born.


Not bad for a guy initially being groomed as a receiver who came to high school by way of playing offensive and defensive line.


"You know, I wish I could say that it was a great evaluation effort on our part with the coaching staff," coach Steve Perry said with a laugh. "But honestly, when he was a freshman, we had a pretty good running back last year on varsity and in our JV games we were short on running backs. I actually thought Jayden would be a really special wide receiver for us. We had one kid we thought would be pretty good and he got banged up a little bit."


Thus, due to lack of numbers, Bryant was made the running back.


"He did pretty well, but it was JV, we didn't think too much about it," Perry said.


Entering this season, however, Bordentown had lost its top runner to graduation and was looking around for a replacement. It was a key position for the run-heavy Scotties, and they decided to take a shot with a somewhat shaky Bryant.


"I had very low confidence coming into the year; I was just scared," Bryant admitted. "But I got over it after that first game, pretty much. I have really good confidence now. I believe in my teammates and they made me believe in myself."


In Week 3, Bryant rushed for 158 yards in a win at Robbinsville, and on Oct. 13, he went for a career-high 207 in a victory over Palmyra.


"As you would expect, in our three wins is when he had pretty big games," Perry said. "We have some pretty tough defenses coming up [in the second half of the season]. I don't know if those staggering numbers we're seeing now will continue, but we're going to keep feeding him."


What's truly impressive about his statistics, is that Bryant is only 5-foot-8, 175 pounds. He's not what you would call a bruiser. And yet, coming up through the Bordentown Pop Warner League, he was big enough to be a two-way lineman.


"I used to be a big kid, so I had to lose weight," he said. "Coming into my eighth grade season I had to slim down to play in the highest weight class. I started playing running back a little in eighth grade. When I got to high school is when I really started playing it."


Bryant knew there would be competition for the varsity job this year, so last summer he went above and beyond regular team workouts. He lifted on his own and would go out to the football field and do drills by himself.


"I really needed to be ready for this season," he said.


The easy-going Bryant felt the adjustment from lineman to runner "wasn't that tough for me. I just kind of went along with it and had to deal with it."


In assessing himself, Bryant feels he doesn't have the best speed or the most power, but feels he possesses a little bit of both qualities.


"I'm kind of in the middle," he said.


He has been durable enough to average 23 carries per game through the first half of the season, when he averaged 5.7 yards per carry and scored six touchdowns. He credits much of his success to an offensive line "that I love. " The line consists of left tackle Jake Schenck, left guard Anthony DeLallana, center Brian Van Pelt, right guard Antonio Marino and right tackle A.J. Vernon.


"There's a lot of parts to it," Perry said. "He's very coachable and listens, we have a good running backs coach in Larry Carthan. We've always run the ball, so we've given him a lot of opportunities. And on top of that our offensive line has been doing a great job, they're been doing better each week also.


"So, the combination of those things has been big. Jayden's not a guy who's gonna break a 60, 70-yard run. But we keep feeding him and he keeps getting positive yardage. If you can get five, six yards a carry that's a pretty good clip."


Bryant describes his running style in basic terms, saying he just looks for a hole, tries to get through "and get out of there as soon as possible." Despite his smaller stature, his days as a lineman have given him the physicality to absorb tackles.


"I don't consider myself a physical runner, but I am pretty physical," he said. "I'm not afraid to take hits."


Perry noted that Bryant doesn't make tacklers miss in terms of shifty moves, but said that his legs are always moving and churning forward.


"He rarely falls backwards," the coach said. "He can break a tackle but I wouldn't call him a power back. He finds holes. He had good vision, he gets his way through the hole."


Like any young back, Bryant needs to work on things, such as planting a foot firmly in the ground to set a defender up for a cut, and using his off arm as a stiff arm.


"It's the little nuances," Perry said. "There was a situation where it was third and four and he took a ball and kind of bounced it outside, and when he came to the sideline I said, 'Listen man, that's when you put your foot in the ground and you get north and south to try to get the first down.' It's just little things like that. But you only have to tell him that once or twice and then he does it. Each week he's gotten better, so I'm excited about that."


Bryant knows he must work on those things. He has become a bit of a celebrity walking the halls of Bordentown with his strong start, but has a sure-fire way to keep himself humble.


"Yeah, they start saying to me 'Oh wow, you're doing good,' and all that," he said. "Whenever somebody says I'm doing really good I'm just like, 'Yeah, but I feel like I can do better, so just let me keep working.'"
Sports
,
Today
,
Schools
Jayden Bryant
Bordentown football